Who was Traffic Cone in 'The Masked Singer' UK?
Who was Traffic Cone in 'The Masked Singer UK'? Which celebrity was hiding underneath the luminous orange cone?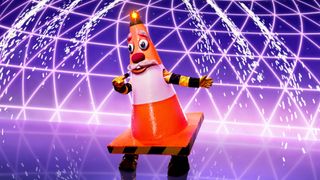 (Image credit: ITV)
Traffic Cone's identity was finally revealed in The Masked Singer UK season 3 semi final and no, it wasn't Rob Beckett or Bradley Walsh, but it was actually Welsh singer Aled Jones!
Eagle-eyed fans were correct once again with their guesses as observant watchers worked out it was Aled through some clues that were shown last week.
What a brilliant fun experience! Singing stuff I don't normally get to do! Thanks so much @maskedsingeruk and @itv - come and join #TrafficCone on tour end of the month and through March ;) #TrafficCone #TheCone #maskedsingeruk pic.twitter.com/xwJIrDx4NsFebruary 5, 2022
Here's some other guesses people thought Traffic Cone was throughout the competition...
Who is Traffic Cone in The Masked Singer UK? Songs...
Week one saw Traffic Cone sing Never Gonna Give You Up by Rick Astley. Could it actually be Rick Astley?!
Traffic Cone sang When She Loved Me from Toy Story 2 in week 2.
For his clue song, Traffic Cone performed Back For Good by Take That for week 3.
Traffic Cone performed A Million Dreams from The Greatest Showman for week 4.
Who is Traffic Cone in The Masked Singer UK? Verbal clues...
The clue for Traffic Cone is: "Traffic Cone — they may be able to stop traffic in this high-vis high fashion costume."
We haven't got much to go off here, but could the high fashion costume clue hint at a model or fashion designer? Model and fashion designer Alexa Chung is known for her hilarious personality and has modeled for high fashion labels. She now has her own fashion label and has also hosted the Netflix series Next in Fashion.
Queer Eye star and fashion expert Tan France also hosted Next in Fashion alongside Alexa Chung and he always gives knock-out fashion advice. So, could he be the one hidden under the orange bravado?
Who is Traffic Cone in The Masked Singer UK? Costume clues...
This huge traffic cone costume is truly memorable and got us thinking on who could possibly dress up as a huge traffic cone and sing on stage.
During RuPaul's Drag Race UK season 3, legendary Drag Queen River Medway stunned viewers with her iconic traffic cone look that was inspired by a statue in her hometown. Could this costume be a tribute to her famous look? It seems like it would be an easy guess if so, but it would be a clever way to pay homage to it.
Who is Traffic Cone in The Masked Singer UK? Show clues...
"Hey, yo, I'm Traffic Cone," is the first thing that Traffic Cone says in his clue package! "You're looking at me like, "Why a Traffic Cone?" Easiest decision ever. The shape of a traffic cone is just like something that's close to my heart." This clue seemed to puzzle the judges.
Traffic Cone went on to say, "You might think traffic cones are all about safety. But not me. I'm here to bring the party." Davina McCall suspected that they could be a DJ, whereas Rita Ora thought they could be a rapper.
"With the help of these threads, I reckon I've got a sporting chance of keeping you guessing." As he said this, there was a red lunchbox with a pie inside and he took a swig from a flask on a construction site. Could this star have worked in construction before their fame?
Afterwards, he revealed, "But I'm hoping I'm on the road to success" as he waved a boombox to the camera. Rita came up with another idea that maybe he is a radio host, before he ended his video with: "Cos there ain't no plan B. Get ready, cos I'm the OG TC."
One last clue was: "I made my money taking my top off." Who could it possibly be?
Week 2 show clues...
Traffic Cone was back to put on yet another impressive performance. But, before he could, let's have a look at his second clue package.
"Last time, the panel struggled to get the shape of me. And I'm not planning on making it easy any time soon," he revealed. "Look, I'm not saying I'm here to make a racket...but I will break the rules from time to time. I am here for a bit of competition, though, and it's great to be able to take on the best." Mo Gilligan suggested that maybe he broke the rules in a certain sport.
"And I mean the very best. I squared off against the fourth best in the world once. Cheeky!" Rita Ora then mentioned that he could be a comedian. "But I also got smashed at Wimbledon. Still, there's nothing like the sound of fans in the stands shouting your name." We then saw Traffic Cone hitting what appeared to be a tennis ball with a racket. Could he be another famous tennis player like Bagpipes was?
"Tonight, I'm gonna sock it to you," this is when Mo pointed out that the tennis ball wasn't actually a tennis ball at all— it was in fact a pair of socks he was hitting with the racket.
It was time for Traffic Cones' two lies and a truth— but which one do you think could be true? The first one was: "I had a gold plated childhood," followed by, "My name makes me king but I'm no rascal." The third one was: "It's often been said that I'm a stand up fella."
Week 3 show clues...
This time, the contestants had a clue song to go with their clue package, but will the song give much away? We'll have to find out!
Traffic Cone started his clue package with: "Last time, I brought the chill vibes. But when it came to who I am, the panel hit a mental roadblock. The thing about traffic cones is that they're part of the everyday urban landscape." Jonathan Ross mentioned they could be an urban artist and Mo Gilligan said it's someone from a big city.
"But let me tell you, this one has an alter ego. I've lived a double life." Davina McCall pointed out they must have played a character and Rita Ora recognised the visual clue of a poster saying, "Traffic Kon'nichiwa now available in 3D, 2D & 1D," where she realised it was an album of someone.
Traffic Cone continued, "Monday to Friday is one thing, but come the weekend, the world was my oyster." We were then shown some crushed oyster shells on a plate. "Not gonna lie, life was sweet! If I bought a new crib, it's be a house made of candy," followed by him holding a box full of sweets.
"Tonight, I'm gonna give a performance that'll stop traffic." His performance was certainly impressive as he sang his clue song Back For Good by Take That. What do you think this could mean?
Week 4 show clues...
We had to keep our eagle eyes peeled this week as it was double the clues for each of the masked singers. But did the help you guess?
Traffic Cone was up next to put on a show-stopping performance, but of course we had to see his clue package first. "In my last performance, I brought the boy band vibes. The panel thought they were getting closer, but I think they're still stuck in traffic," he introduced in his VT.
Showing off his gold chain and platinum rings, he said: "See this chain? Gold. See these rings? Platinum." Mo Gilligan mentioned that the clues could be something to do with records. "I got that diamond bling, yo. And a royally sick cut. Everyday I feel 'hashtag blessed.' But also bare humbled." Guest judge Olly Alexander said he felt as though it could be someone older and Davina McCall agreed saying: "He's, like, old, but young."
"Humbled by all the opportunities and adventures that have come my way. Am I right?" Traffic Cone teased, which made Olly Alexander question if it was a catchphrase. "Tonight, I'm aiming to be the greatest showman. Let's ave it!"
Davina noticed an additional clue on Traffic Cone's costume with the word "Believe" written across the bottom of it, meanwhile we were also allowed a quick snoop through Traffic Cone's social media to see if we could gather anymore clues.
"You caught me learning my lyrics." he said in the video, while holding a clipboard. "I've always struggled learning my words, which is why I've put together my new online tutorial to improve your memory. 50% off for a limited time only. Swipe up now for more info."
Who is Traffic Cone in 'The Masked Singer' UK? Theories…
Davina reckoned Traffic Cone could be football star Chris Kamara and Mo Gilligan thought he could be Olympic gold-winning triathlete Alistair Brownlee or Peter Andre. Meanwhile, Rita guessed singer Olly Murs and Jonathan Ross had a more obscure guess of Prince Harry!
Many came up with the theory that Traffic Cone is Rick Astley himself! Whereas some were sure it was Tom Jones.
I think we are being Rick Rolled by @MaskedSingerUK and traffic cone is actually Rick Astley #TheMaskedSingerUKJanuary 2, 2022
Traffic cone is 100% tom jones #MaskedSingerUK soon as traffic come started singing i knew it was himJanuary 2, 2022
Week 2 theories...
Rita Ora went down the comedian route this time, guessing Jack Whitehall and so did Jonathan with his guess of Jimmy Carr or Bradley Walsh. Mo then suggested Lee Evans, but still wasn't sure.
Eagle-eyed viewers at home were busy spotting the clues as to who it could be. One fan suggested that Traffic Cone could be Mr Bean! While some others are going with Bradley Walsh.
Mini Cooper in the clues for Traffic coneROWAN ATTKINSON was my first thought on day one when I saw the Mini I thought Mr bean now I can hear him in the 2nd performance I think Traffic cone is the Legend that we know as Mr Bean@MaskedSingerUK #MaskedSingerUK pic.twitter.com/v558ymrGghJanuary 17, 2022
Traffic cone has to be Bradley Walsh, reckon the sheep have something to do with The Chase 👍 #MaskedSingerUKJanuary 15, 2022
Week 3 theories...
Davina was up first with guessing, and she said Michael Ball, and Rita went for musician, Example. Mo decided to go for Robbie Williams, and Jonathan suggested Bradley Walsh again.
There were a huge range of guesses from fans on social media on who they thought Traffic Cone was, with a few fans thinking it could be Alexander Armstrong or Aled Jones. What do you think of these guesses?!
Right now, I officially guess that Traffic Cone is Aled Jones, not Alexander Armstrong. #MaskedSingerUKJanuary 23, 2022
Week 4 theories...
Mo guessed Martin Kemp and Jonathan Ross went with Russell Watson. Meanwhile, Rita Ora went for Rob Brydon, Olly Alexander went for a more obscure guess of David Dickinson, and Davina went for Alfie Boe.
Fans at home are still sure that Traffic Cone is Aled Jones, whereas one thinks it's Michael Ball!
Wasn't there a clue about being smashed at Wimbledon to do with Traffic Cone?! What gets smashed at a Wimbledon… tennis BALL. It's Michael Ball #MaskedSingerUKJanuary 30, 2022
The new series of The Masked Singer continues on ITV — see our TV Guide for full listings.
Get the What to Watch Newsletter
The latest updates, reviews and unmissable series to watch and more!
Grace is a digital writer with WhatToWatch.com, where she writes series guides for must-watch shows and the latest TV news. She graduated from Anglia Ruskin University in 2020 with a degree in Writing and Film Studies, which only made her love for creative writing, film and TV grow stronger.
You'll usually find her watching the drama unfold in the latest reality series and much-loved soaps (usually with chocolate by her side!). Grace also likes to explore new places with her friends and family and, of course, watch and read about the latest films and TV series.