You season 4 episode 3 recap: Joe kills... again
You season 4 episode 3 sees Joe Goldberg resume his murderous antics — but who is his next victim?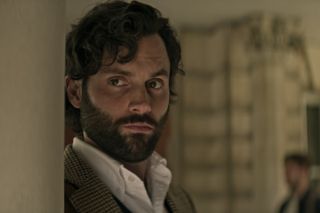 (Image credit: Netflix)
As Joe desperately tried to put his murderous past behind him, it wasn't long before he was back disposing of yet another dead body in You season 4 episode 3 — but who was the victim?
Joe's little European holiday plunged into chaos following the sadistic murders amongst the rich English crowd and he's since acquired a new stalker who knows all about his past life.
As the stalker continues to taunt Joe, there's a lot of drama in episode three — from blackmail and killer threats to romantic encounters and a secret from an unexpected source.
Here's everything you need to know about what happened in You season 4 episode 3...
The 'Eat The Rich Killer' makes headlines
Joe's English students learn the news that Professor Malcolm Harding (Stephen Hagan) has been murdered and they believe that it's connected to the Simon Soo (Aidan Cheng) art gallery murder.
The mystery criminal is dubbed as the 'Eat The Rich Killer' by the press and student Nadia Farran (Amy-Leigh Hickman) seems strangely devastated by the discovery that Malcolm has died.
Joe discovers that his stalker sent Malcolm's severed finger to The London Dispatch with a note saying that "This is not a kidnapping. This is a murder,"— and it's not long before he receives a message from his stalker.
"Now do I have your attention?" they ominously question.
The stalker continues to pressure Joe into confessing his real identity and as Joe refuses to play their dangerous game, he's blackmailed by the anonymous killer who threatens to pin the murder of Simon on him by sending in the severed ear with his name attached to the note.
On campus, as one of Joe's students, whose father owns one of the newspapers, continues to gossip about Malcolm's murder, Nadia fiercely berates him for making fun of the killing.
As Joe witnesses the altercation, he senses that Nadia had been sleeping with Malcolm.
The police come knocking
As Joe desperately awaits another message from his stalker, he sees the police questioning Kate through her window. She catches him spying on her and calls him, telling him that she's sent the police his way.
Joe is thrown into a panic and in usual fashion, he remarkable finds a way to put the police off the scent by lying that he wasn't the last person to see him alive. He reveals that the pair were drunk and Malcolm told him that he found out that Simon was coercing artists into making his paintings.
As Malcolm gambled and was short of money, Joe hints that Malcolm blackmailed Simon.
Joe uncovers Nadia's secret
Joe sees Nadia rooting around some flower pots outside of Malcolm's apartment searching for a key to get in and Joe's suspicions are soon confirmed that Nadia was in a sexual relationship with Malcolm.
A devastated Nadia reluctantly confesses to Joe that she wrote Malcolm a love letter that's now in his apartment and she's terrified that it'll be leaked to the press.
Sensing how desperate she is to get it back, Joe offers to help Nadia and reassures her that he'll get the letter as he is friends with Kate — well, not yet.
From professor to bodyguard
After the police interview, Joe's stalker strikes again and their real game is soon exposed — they want Joe to kill Kate.
Terrified that Kate could be the 'Eat The Rich Killer's' next victim, Joe becomes her bodyguard to prevent anything from happening to her.
He keeps a close eye on her at Malcolm's funeral and she's as hostile as ever to see him show up.
After an awkward exchange outside Sundry House, Joe follows her to a pub where a frosty Kate is fuming to see him turn up once again. He tries to tell her that it's dangerous for her to be alone and that he wants to help her, but the fiercely independent Kate is unimpressed with her unexpected knight in shining armor.
However, Kate's icy heart begins to thaw as she opens up to Joe about her troubled childhood and they have a heart-to-heart. Kate then takes Joe to her and Malcolm's favorite spot — a secret garden.
At the garden, a grieving Kate seduces Joe and they sleep together, clueless to the fact that personal driver Vic (Sean Pertwee) is watching them from behind the bushes.
Back at Kate's, Joe notices her sleeping and seizes the opportunity to get Nadia's letter.
He sneaks into Malcolm's office and finds a bundle of letters hidden behind a self portrait — but he's soon caught in the act by Kate who orders him to leave.
Joe successfully retrieves Nadia's letter, but he soon has other things on his mind when the stalker messages him again, taunting him about how he enjoys killing people.
As the secret serial killer threatens to murder Kate, Joe speeds off in a taxi to follow her as she leaves her apartment.
He pursues her to a 700 year old crypt, where he overhears Kate paying respects to Malcolm. But, it's not long before Joe's killer instincts strike once again.
Joe's efforts to protect Kate take a dark turn
Disaster strikes for Joe when Vic ambushes him with a gun as Joes tries to leave the crypt. After secretly spying on Joe as he followed Kate, Vic is convinced that Joe is the killer and searches his pockets while pointing a gun at his back.
And things take a turn for the worst when Vic pulls out Malcolm's ring from Joe's pocket, seemingly confirming his suspicions. Realizing that it had been planted there to set him up, a terrified Joe tries to convince Vic that someone is trying to frame him.
As Vic attempts to call the police, Joe attacks him and the pair violently brawl, which ends with Joe strangling Vic to death. Joe buries Vic with Simon's gold plated coffin and forges a letter of resignation to Lady Phoebe (Tilly Keeper).
Joe plays the stalker at their own game
Once an exhausted Joe returns home from burying Vic, he receives another message from the stalker that enrages him.
But through his anger, he manages to come up with a cunning plan and decides to befriend the anonymous criminal by tricking them into believing that they're kindred spirits who love to kill.
As Joe waits for the stalker to take the bait and meet, Lady Phoebe texts him to come to Sundry House at 10am.
In the meantime, Joe gives Nadia the love letter and it's not long before his devious plan falls into place.
"I think it's time for us to meet," the stalker replies.
As Joe shows up to Sundry House, he's welcomed by the whole gang and the police waiting to question him.
Is Joe's ruse about to be rumbled?
Get the What to Watch Newsletter
The latest updates, reviews and unmissable series to watch and more!
Grace is a digital writer with WhatToWatch.com, where she writes series guides for must-watch shows and the latest TV news. She graduated from Anglia Ruskin University in 2020 with a degree in Writing and Film Studies, which only made her love for creative writing, film and TV grow stronger.
You'll usually find her watching the drama unfold in the latest reality series and much-loved soaps (usually with chocolate by her side!). Grace also likes to explore new places with her friends and family and, of course, watch and read about the latest films and TV series.