Holby City is moved AGAIN in the schedules – here's why!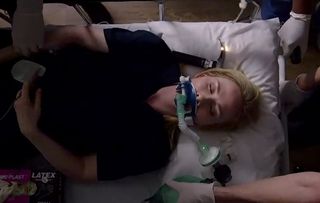 (Image credit: BBC)
Are Holby Tuesdays becoming a myth ponder fans?
Once upon a time Holby City enjoyed a regular Tuesday slot, but recently it keeps ending up on Wednesday thanks to big sporting occasions.
And the bad news for fans who like their Holby City dose on a Tuesday is that it's happening again next week as Holby City will be shown on Wednesday [8th August] at 8pm.
This is because on the Tuesday evening BBC1 will be showing the European Championships athletics from Berlin.
Fans have complained that "Holby Tuesdays" are rapidly becoming a myth, with one summing up the general mood by saying: "Flipping sport… if it's not football it's tennis… and now it's athletics! I suppose I should be grateful it's not been cancelled altogether!"
It all means Holby City viewers will have to wait an extra 24 hours before they can see what happens to Jac Naylor after she's dramatically found lying unconscious in her office by a panicked Fletch. Will Jac join the list of patients who've succumbed to Gaskell's risky surgery?
Meanwhile, Casualty fans will have a late start on Saturday due to the BBC's coverage of the athletics. They will have to wait until 9pm to see what happens when Alicia tells the police she has been assaulted.
Next week's Holby City is on WEDNESDAY at 8pm, while Saturday's Casualty is on at 9pm.
Get the latest updates, reviews and unmissable series to watch and more!
Thank you for signing up to Whattowatch. You will receive a verification email shortly.
There was a problem. Please refresh the page and try again.