Holby City's Kaye Wragg: The idea of being the 'stepmum' frightens Essie!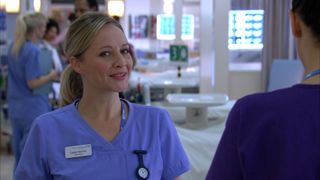 (Image credit: BBC)
Keen to take their relationship to the next level, Sacha wants Essie to meet his kids in Tuesday's Holby City on BBC1. But Essie's not keen, as actress Kaye Wragg explains…
Nurse Essie Harrison's relationship with consultant Sacha Levy has certainly had its ups and downs. Can you remind us of the story so far?
"First of all, Essie's grandfather was revealed to be a Nazi war criminal and, with Sacha being Jewish, this threw up a lot of things that they had to deal with. Essie then went to Germany to spend time with her family and kind of lost touch with Sacha. When Essie returned to Holby, Sacha learned she'd had a brief fling and said he couldn't be with her."
They soon reunited, though, when Essie convinced Sacha he was the only man for her. What do they see in each other?
"Essie's fallen madly in love with Sacha and doesn't want to let that go. They understand each other now and they're not interested in empty flings. They both want the same thing, which is to be settled and happy."
This week, however, it seems their relationship hits another bump in the road when Sacha invites Essie to meet his three children. Why isn't Essie keen to meet them?
"Essie knows it's going to be part of her journey with Sacha, but she's not quite prepared for it. Essie's enjoying being in this lovely bubble of love with Sacha and she doesn't want anything to spoil that. Plus, the idea of being the 'stepmum' is a bit frightening for her."
So how does Essie try and get out of meeting Sacha's kids?
"Essie tries to engineer the fact that she's got this old friend who's popped up out of the blue and lies to Sacha that she's double booked, so she won't be able to meet his kids that night."
Essie's Keller colleague Dominic is around when she lies to Sacha – but he doesn't exactly give her the support she needs, does he?
"No, not at all! Dom knows what Essie's doing and playfully tries to stir the pot. As Essie tries to wriggle out of things with Sacha, Dom enquires about this 'friend' and relishes the fact he's making Essie squirm."
Later, Essie comes clean to Sacha about having had reservations about meeting his kids, but says she wants them all to go bowling the next night. Why does she have a change of heart?
"Essie realises the situation isn't going to go away. She just wanted to enjoy being in love for a bit longer before the reality of family life kicked in."
Holby City continues on Tuesdays at 8pm on BBC1.
Get the latest updates, reviews and unmissable series to watch and more!
Thank you for signing up to Whattowatch. You will receive a verification email shortly.
There was a problem. Please refresh the page and try again.