Holby's Natasha: 'Lilah reports Ric!'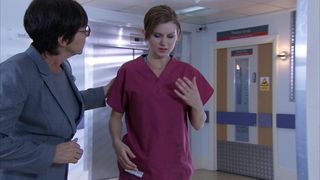 (Image credit: BBC)
Surgeon Ric Griffin is suspended from Holby City when Dr Lilah Birdwood speaks out about their secret encounter, as Natasha Leigh reveals... What was the mood like between Lilah and Ric after their kiss? "Initially it was a bit awkward, of course. But they both agreed to forget what happened and get on with the job." But when Lilah then suspected Ric had failed her on an assessment because of it, she confided in Imelda. Is Lilah feeling any regret this week about doing that? "During that time, Lilah was put under a lot of pressure by both patients and staff, which erupted a wave of emotions and vulnerability for her. Imelda swooped in as a supportive figure and Lilah felt trusted again. But now she isn't sure where Imelda will take it all." This week, Lilah tries to smooth things over with Ric herself while they treat patient Mary. But how does Ric respond to Lilah's efforts? "She definitely feels like Ric is giving her the cold shoulder. He doesn't seem to trust her any more, and she feels used." Feeling excluded, Lilah then tells Imelda that Ric kissed her and makes a formal complaint against him for sexual harassment. Does Lilah feel any guilt over her decision to report him? "Lilah tells Imelda this after a very long, emotional and draining day. She never wanted to get anyone into trouble. She just needed to be heard." How does this situation compare to what happened to Lilah back in Australia before she arrived at Holby? "Lilah's relationship in Australia was completely different. She chose to have an affair and it backfired. With Ric, it wasn't planned or premeditated, it just happened." How does this whole incident affect Lilah's relationship with Ric and, ultimately, her job at Holby in the coming weeks? "She just wants to do her job. This scholarship means the world to her. It kills her inside to not be liked by her teammates and her mentor Ric. But Lilah is strong - she's a fighter, she will not give up." Holby City continues Tuesdays at 8pm on BBC1.
Get the latest updates, reviews and unmissable series to watch and more!
Thank you for signing up to Whattowatch. You will receive a verification email shortly.
There was a problem. Please refresh the page and try again.