Holby's Lucinda Dryzek reveals how Jasmine's instinctive act leads to Ric's suspension!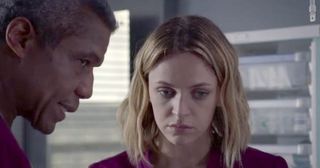 Jasmine disobeys Ric's orders in Tuesday's Holby City – then unwittingly lands him in big trouble with Hanssen. Star Lucinda Dryzek explains...
Jasmine Burrows tries to impress Ric Griffin in Tuesday's Holby City, but actually ends up getting him suspended!
Jasmine's day doesn't get off to the best of starts when she turns up at work hungover – something that doesn't go unnoticed by Ric (Hugh Quarshie). To try and redeem herself, Jasmine helps to look after Sol, a man who's been injured at work.
"Jasmine's raring to go and keen to prove herself," says Lucinda Dryzek, who plays her. "She's one of those people that you can knock a bit and she'll take it, but then comes back with her sleeves rolled up ready to go."
Ric explicitly tells Jasmine to call him if there are any problems. But when Sol's condition worsens Jasmine, being Jasmine, tries to handle the situation on her own…
"Jasmine's quite instinctive and maybe, sometimes, makes decisions she shouldn't make, but that's only because there's often no one else there to make one, so she takes matters into her own hands," Lucinda says of Jasmine, whose half-sister is the formidable Jac Naylor (Rosie Marcel).
However, Ric's furious with Jasmine for not calling him and their confrontation is witnessed by new hospital board chairman, Tristan Wood (Jonathan McGuinness).
"Jasmine stands firm; would people rather she stood by and just watch this person get worse and worse in front of her? Jasmine wouldn't be able to handle someone dying on her watch because of red tape saying she can't do something. If she knows how to do it, and she's seen someone do it before, she'll do everything she can to save a person's life!"
After the showdown, a seemingly concerned Tristan asks Jasmine how she's finding things on Keller and the young doctor admits she finds Ric intimidating. But she soon discovers Tristan's told Holby bigwig Hanssen about their chat!
Ric's then summoned to Hanssen's office, where he's told that a complaint has been made against him and that the board intends to suspend him while they investigate!
As Jasmine then sees Ric leave with his belongings, she's racked with guilt. Has she ruined his career?
Find out as Holby City continues, Tuesdays at 8pm on BBC1.
Get the latest updates, reviews and unmissable series to watch and more!
Thank you for signing up to Whattowatch. You will receive a verification email shortly.
There was a problem. Please refresh the page and try again.