Danny Mac on Strictly: 'I've jumped in head, chest and sequins first!'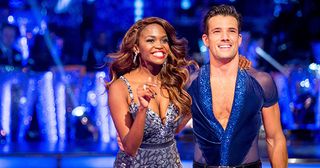 (Image credit: BBC)
Former Hollyoaks actor Danny Mac chats to Soaplife about giving it everything to compete for the glitterball trophy on Strictly Come Dancing!
Danny Mac is proving he's a force to be reckoned with on this year's Strictly Come Dancing. Soaplife chats to the former Hollyoaks star about his journey so far...
We miss you as Hollyoaks' Mark 'Dodger' Savage, Danny, so it's great to see you in Strictly Come Dancing. What made you sign up ? "I really, really wanted to try something new and everybody told me how much fun Strictly is. This has been a bit of an odd year across the board for everyone and I thought, you know what? I'm going to grab it by the glitter balls and go for it! I'm so excited to be taking part…"
Why did you turn the show down in previous years? "I didn't become an actor to be me. It took me years to agree to do this show as I'm so terrified of being myself on telly on anything."
But no regrets now? "As soon as I made the decision to do it, every single thing I heard from everyone about it was so positive and that just made me more and more excited."
You look certainly look the business with your partner, Oti Mabuse… "I can't even begin to explain how amazing she is. She bosses me about and lets me know the score and drills me – and that's great because I need it! I've got the memory of a goldfish!"
What's been your biggest challenge in the competition so far? "Initially working out the differences in dances like the foxtrot and the waltz. I had no idea what ballroom dancing really was. The execution of the dances is very challenging for me."
Would you say you're your own biggest critic? "I'm so, so pernickety and I care so much about everything I do, it's almost too much. I over think everything. If a finger needs to be over there, I will think only about that and not about what steps I need to be doing."
We're certainly loving your glittery shirts – or rather lack of them!"I said from the start that I wanted to embrace the entire experience. So I stupidly said in wardrobe, when they were like, 'Is there anything you don't want to wear?' I went, 'You know what - whatever you think is best'. It's safe to say I've jumped in head, chest and sequins first!"
Strictly Come Dancing continues Saturdays and Sundays on BBC1.
Get the latest updates, reviews and unmissable series to watch and more!
Thank you for signing up to Whattowatch. You will receive a verification email shortly.
There was a problem. Please refresh the page and try again.