Hollyoaks' Zoe Lucker: 'Reenie's hiding a massive secret about Derek'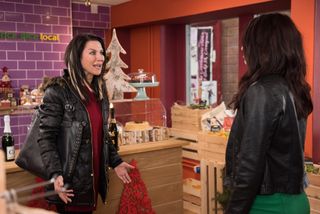 A dark secret and a fight leaves on-the-run Reenie left to choose between two of her daughters in Hollyoaks (opens in new tab), reveals Zoe Lucker (opens in new tab)…
All Reenie McQueen wants for Christmas is a happy time with her family. But there's more chance of a Boxing Day heatwave after a dark secret emerges and blows the McQueens' world apart. It's all to do with the late Derek Clough, whose will is about to be read.
"Any reminder of Derek sends Reenie into a state," Zoe says. "Reenie gets a letter about the will and so does Porsche, which makes Reenie incredibly nervous as she has a secret she doesn't want to spill…"
How does Reenie react when the letters arrive?
"She's got this letter asking her to go to the will reading and it brings back horrible memories of Derek [Bruce Montague (opens in new tab)], who was violent and who abused her. There's also this bigger thing, a massive secret that she's hiding. Porsche also gets a letter, but Reenie doesn't want her to see it."
But she does…
"And Porsche's really angry, which isn't good for Reenie, as there's been this big fall-out after her wedding to Pete and she wants things to be mended. Porsche [Twinnie-Lee Moore (opens in new tab)] finds out Derek has left her £10,000, and she wants to know why. But Reenie doesn't want to tell her."
So Porsche tries to beat it out of her?
"Porsche's started drinking. She bumps into Reenie in Price Slice and they get into an argument, which turns into a massive fight. Basically, Porsche ends up dragging Reenie around the place."
And that leads to real trouble, doesn't it?
"A police officer comes in and Reenie accidentally ends up assaulting her. She knows she has to get away fast as she's on bail and could be sent back to prison before Christmas."
Where does she go?
"She hides in a wardrobe over at the McQueens'."
How does Reenie build bridges with Porsche?
"When Reenie comes out of the wardrobe, Myra [Nicole Barber-Lane (opens in new tab)] locks her in a room with Porsche and she tells them to sort out their problems. They start talking and decide they should run away together with Lockie [Nick Rhys (opens in new tab)]. Reenie feels as if she's let Porsche down all her life and this is a chance to be a better mum to her. It's a brilliant opportunity to make things up and this is all happening on Christmas Eve."
What about Cleo?
"That's the problem. Cleo [Nadine Mulkerrin (opens in new tab)] still loves Pete [Kai Owen (opens in new tab)] and, in the end, Reenie is faced with a tough choice."
Who will she choose?
"You'll have to wait and see."
What are the chances of Reenie having a good Christmas?
"Very slim. After the year they've all had, she wants it to be wonderful and, although I'd love her to have some real happiness, it's unlikely."
Hollyoaks (opens in new tab), Channel 4
Thank you for signing up to Whattowatch. You will receive a verification email shortly.
There was a problem. Please refresh the page and try again.