Ex Hollyoaks star Mandip Gill thrilled to land role in Kay Mellor's Love, Lies and Records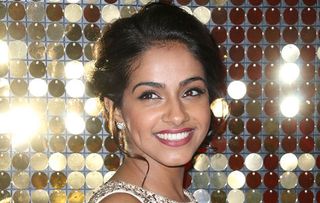 (Image credit: News Pictures/REX/Shutterstock)
Best known as Phoebe McQueen, the Leeds actress is looking forward to returning to her roots in the new BBC1 drama
Former Hollyoaks star Mandip Gill chats about her new role in the upcoming BBC1 drama, Love, Lies and Records!
So, what's your role in Love, Lies and Records? "I'm playing a junior registrar called Talia in the new BBC1 drama , which starts next month. It's written by the amazing Kay Mellor and it's about life in a Leeds register office."
Is there much drama in a register office? "Loads and loads of it! In addition to the normal office politics, you're dealing with life's really big issues – births, marriages and deaths. In the course of one day, you might have registered a birth, conducted a marriage and issued a death certificate. It's a real roller-coaster."
Did you spend time in a real register office? "No, but I'm lucky in the fact my auntie is a registrar. I've been into work with her a few times and she's always got a good story to tell about stuff that's gone on. In fact, she and her colleagues have always said a register office would make a great setting for a drama, but Kay Mellor's beaten her to it!"
What's Talia like? "She's a keen, bright girl who loves her job and she's trying not to become too involved in office politics. She prefers to keep herself to herself. That's not easy because her two bosses don't see eye-to-eye."
What else can you tell us about her? "Talia's a Muslim girl who has her marriage arranged for her by her family, but she's completely OK about that. There's no way Talia is defined by her faith and we don't meet any of her family until the last two episodes."
Are you pleased to be appearing in a Kay Mellor drama? "Absolutely delighted! For a northern actor, it doesn't get much better than one of Kay's gritty dramas. Just look at what she's written over the years – Fat Friends, In the Club, The Syndicate and loads more. I live in London, but it's been great for me to be back home in Leeds for a bit and seeing lots of my family. I'm also brilliant at the accent!"
How long is it now since you left Hollyoaks? "It's two years. I've done quite a lot of TV since, including Doctors, Casualty and The Good Karma Hospital. But it's still Phoebe McQueen and Hollyoaks that I get recognised for. I don't mind, though. Hollyoaks is brilliant."
Love, Lies and Records, coming soon to BBC1
Get the latest updates, reviews and unmissable series to watch and more!
Thank you for signing up to Whattowatch. You will receive a verification email shortly.
There was a problem. Please refresh the page and try again.