Almost Human (1974) | The Italian crime thriller gets a restored, uncut release on Blu-ray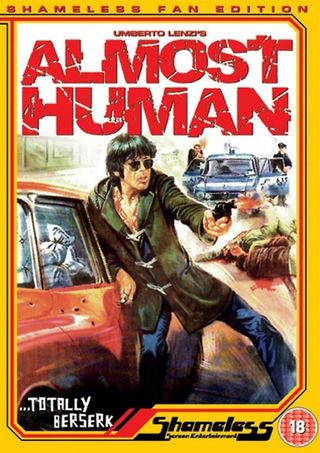 From Italy's genre director extraordinaire Umberto Lenzi (Sandokan the Great, The Man from Deep River, Cannibal Ferox) comes the hyper-violent 1970s crime classic Almost Human (aka Milano odia: la polizia non può sparare), restored and uncut on Blu-ray for the first time from Shameless.
The late, great Spaghetti western star Tomas Milian (who died March this year, aged 84, from a stroke) stars as Giulio Sacchi, a sadistic small-time crook looking to mark his mark. With his gang of weirdos in tow, Sacchi kidnaps Marilù (Laura Belli), the daughter of a billionaire. But, in hot pursuit is Inspector Grandi (Henry Silva), a hardened cop who only becomes more hell-bent on catching Guilio and his gang with each corpse he finds …
Almost Human is one of Lenzi's best and most highly-regarded films, a notoriously nasty crime thriller which reflects on the Years of Lead in Italy, a time when terrorists caused chaos and police action was judged as deficient.
Featuring a career-best performance from Milian and a standout score from Ennio Morricone, the high-octane, edge-of-the-seat thrill ride is presented for the first time ever in glorious HD and restored from original vault materials.
This is a must-have for all fans of Euro-crime and polizieschi movies.
Special Features: • English & Italian original audio with English subtitles • Milian Unleashed: Interview with Tomas Milian • Fact Track & Article • Theatrical Trailers
Get the What to Watch Newsletter
The latest updates, reviews and unmissable series to watch and more!