Blue Collar (1978) | The gritty urban drama starring Richard Pryor gets a re-mastered HD release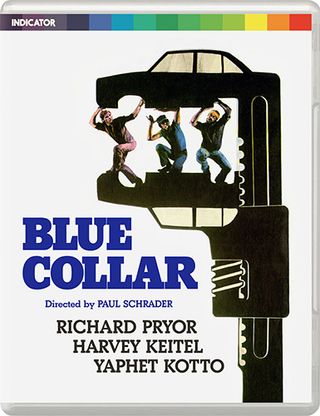 Indicator's limited Blu-ray Edition (UK premiere) of director Paul Schrader's Blue Collar starring Richard Pryor, Yaphet Kotto and Harvey Keitel is out now
The writer of Taxi Driver, Paul Schrader, made his directing debut with this caustic look at life on the factory shop floor. Richard Pryor, Harvey Keitel and Yaphet Kotto work at a Detroit car plant and figure they're getting a very poor deal all round. So, they decide to burgle their union's office. However, the latter's ties with the Mob mean that they're soon in big trouble...
Some great (but very foul-mouthed) dialogue and an acute sense of three lives blighted by debt and poverty, combine to make this a searing black comedy and a gut-wrenching drama. Keitel is particularly good in the scenes where he (rightly) feels himself a hunted man after one of his comrades has been (implausibly) killed and the other has sold out to the bosses. The closing lines and Kotto's final exit, in particular, still retain tremendous power. This is On the Waterfront for the late 1970s.
Indicator's limited (3000 copies) Blu-ray Edition comes with the following special features… • High Definition remaster • Original mono audio • Audio commentary with writer-director Paul Schrader and author Maitland McDonagh • Paul Schrader BFI Masterclass (1982, 106 mins): the filmmaker presents a fascinating summary of the many issues and ideas he explores in his screenwriting class • Visions: Interview with Paul Schrader (1982): archival interview, presented in two versions – the broadcast cut (21 mins), and the complete interview rushes (58 mins) • Keith Gordon on Blue Collar (2018, 12 mins): a new filmed appreciation by the filmmaker and actor • Original theatrical trailer • Image gallery • New and improved English subtitles • Exclusive 40-page booklet with a new essay, archival interviews and film credits
Get the latest updates, reviews and unmissable series to watch and more!
Thank you for signing up to Whattowatch. You will receive a verification email shortly.
There was a problem. Please refresh the page and try again.