Charley Varrick (1973) | Walter Matthau takes flight in Don Siegel's razor sharp heist action thriller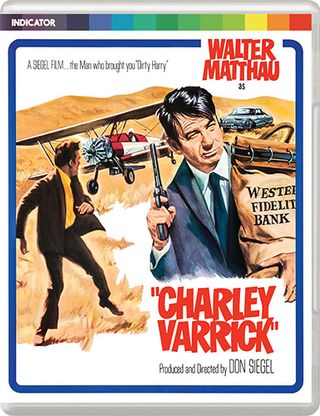 Indicator's limited Blu-ray Edition (UK premiere) of Don Siegel's Charley Varrick starring Walter Matthau is out now – re-mastered and in HD
With its sharp script, slap-up finale and the unforgettable Walter Matthau this is one is one of the most intelligent and memorable thrillers of the 1970s: action-packed, memorably lurid and gleefully unsentimental.
Matthau brings his own laconic brand of charm to the role of former stunt-pilot turned small-time crook Charley Varrick who, along with his wife Nadine (Jacqueline Scott) and two accomplices believe they have hit the big time when they pull of a bank heist to the tune of $765,118. But it all goes spectacularly awry when the money turns out to belong to the Mafia who send out a psychotic assassin (Don Joe Baker) is to recover the money…
Director Don Siegel conjures his smart thriller (based on John H Reese's novel The Looters) from some familiar ingredients – including lots of violence, but he also ensures that humour isn't completely neglected.
A host of familiar faces from Siegel's other films provide the sterling support, amongst them Marjorie Bennett (Coogan's Bluff) as an eccentric old dear and Sheree North (The Shootist) as a blackmailing nymphomaniac photographer, while Joe Don Baker channels Richard Widmark in Kiss of Death in his turn as the fastidious killer, Molly. Other include Norman Fell (The Killers) and Woodrey Parfrey (Dirty Harry). Siegel also makes a cameo as a ping-pong player.
The poster for the movie – featuring the word 'Kill' in huge red letters – was banned from the London Underground on the grounds of bad taste, but the film still managed to win a Bafta award for Matthau as Best Actor.
Indicator's limited (3000 copies) Blu-ray Edition (UK Blu-ray premiere) is released 22 January with the following special features… • High Definition re-master • Original mono audio • Last of the Independents: Don Siegel and the Making of 'Charley Varrick' (2015, 75 mins): feature-length documentary containing interviews with actors Andy Robinson and Jacqueline Scott, stunt driver Craig R Baxley and Siegel's son, Kristoffer Tabori • The John Player Lecture with Don Siegel (1973, 75 mins): archival audio recording • The Guardian Lecture with Walter Matthau (1988, 89 mins): archival audio recording • Super 8 version (18 mins): original Universal Eight cut-down home cinema presentation • Original theatrical trailer • Josh Olson and Howard Rodman trailer commentary (2013, 6 mins): a short critical appreciation • Image gallery: on-set and promotional photography • New and improved English subtitles • Exclusive booklet with a new essay, critical responses, and film credits
Get the latest updates, reviews and unmissable series to watch and more!
Thank you for signing up to Whattowatch. You will receive a verification email shortly.
There was a problem. Please refresh the page and try again.