Clash of the Titans (1980) | Ray Harryhausen's final flight into fantasy on special edition Blu-ray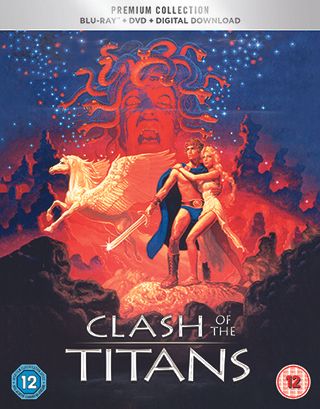 Warner Bros. Home Entertainment unleash the fantasy classic Clash of the Titans on Blu-ray, DVD and Digital as part of The Premium Collection on 26 February
Before history and beyond imagination! While remade in 2010 with a bigger budget and slicker effects, this final mythological fantasy adventure from special effects master Ray Harryhausen spectacularly recaptured the heady charms of his 1963 masterpiece, Jason and the Argonauts.
Sir Laurence Olivier is the god Zeus and Harry Hamlin is his human son Perseus, whose dangerous quest takes in taming the winged horse Pegasus; meeting a group of witches who have only one eye to share between them; and battling both the snake-haired Medusa and a huge sea monster called the Kraken. Burgess Meredith and a mechanical owl accompany him; while the other gods include Claire Bloom, Ursula Andress and Maggie Smith.
Like all of Harryhausen's previous flights of fantasy, the visual effects up-stage the heavyweight cast with some incredible sequences, notably the battle with the giant scorpions, the arrival of the monstrous Kraken and, most impressively, a creepy visit to Medusa's lair.
Clash of the Titans joins Warner Bros. Home Entertainment's Premium Collection on Blu-ray, DVD and a Digital Copy (via the Ultraviolet service) in a collectible slipcase which includes four artcards featuring the films key art and three lobby cards style stills. The special features include a conversation with Ray Harryhausen, and a gallery of myths and monsters.
Harryhausen's The Valley of the Gwangi and The Beast from 20,000 Fathoms are also available as part of The Premium Collection.
Get the latest updates, reviews and unmissable series to watch and more!
Thank you for signing up to Whattowatch. You will receive a verification email shortly.
There was a problem. Please refresh the page and try again.