Little Murders (1971) | Blu-ray release – Alan Arkin's bitter black comedy starring Elliott Gould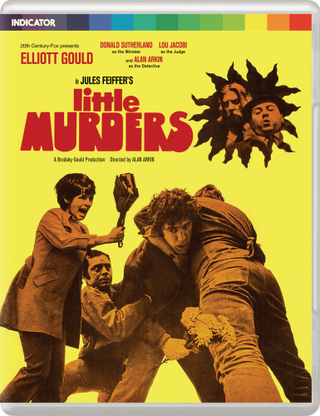 From Powerhouse Films/Indicator comes the UK Blu-ray release of Little Murders
Scripted from a play by cartoonist Jules Feiffer, this savage black comedy presents a devastatingly grim picture of life in New York City. Elliott Gould is at the peak of his dishevelled post-M*A*S*H powers as a photographer whose life is transformed when he marries optimistic Marcia Rodd, who is determined to save him amidst the series of random muggings, sniper shootings, garbage strikes and total blackouts that are ravaging the city. Donald Sutherland as a trendy priest, and Alan Arkin as a kooky cop, are also part of the bitter brew.
The Powerhouse Films/Indictor Limited Edition (3000 copies) Blu-ray, featuring a HD remaster, is out on 30 April with the following special features
INDICATOR LIMITED EDITION SPECIAL FEATURES: • Audio commentary with actor Elliott Gould and writer Jules Feiffer • Audio commentary with journalist Samm Deighan • Introductions by Alan Arkin and Jules Feiffer • New interviews with Elliott Gould, Alan Arkin and Jules Feiffer • Speaking of Films (1972, 30 mins): Jules Feiffer in discussion • Radio interviews (1971, 32 mins): featuring Elliott Gould, Donald Sutherland and Alan Arkin • Original theatrical trailer • Trailer commentary with Larry Karaszewski (2013, 4 mins) • Original TV & radio spots • Gallery • 40-page collector's booklet with an essay by Jim O'Rourke
Thank you for signing up to Whattowatch. You will receive a verification email shortly.
There was a problem. Please refresh the page and try again.