Living Is Easy with Eyes Closed | John Lennon inspires a beguiling road trip in 1966 Spain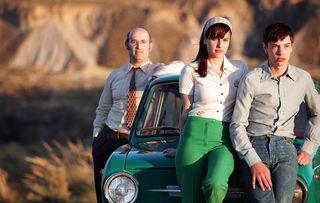 Set in Spain in 1966, beguiling comedy-drama Living Is Easy with Eyes Closed throws together three unlikely travelling companions on a life-changing road trip.
Antonio (Javier Cámara), the driver, is a paunchy middle-aged English teacher and Beatles fan who is en route to Almería, where his idol John Lennon is currently shooting Richard Lester's How I Won the War. And Belén (Natalia de Molina) and Juanjo (Francesc Colomer) are the young hitchhikers he picks up independently along the way, both of them seeking freedom in Franco's repressive Spain.
The film takes its mood from its hero: gentle, good-humoured and tinged with melancholy. The pace is leisurely, but Antonio's openhearted kindness is so winning and charming that you won't mind the time it takes to get to the destination.
Certificate 15. Runtime 108 mins. Director David Trueba
Living Is Easy with Eyes Closed debuts on Sky Cinema Premiere at 10.15pm tonight.
Living Is Easy with Eyes Closed: The John Lennon Connection
Writer-director David Trueba took his inspiration for the film from the story of real-life teacher Juan Carrón Gañàn, who made the trip to see John Lennon in Almeria in 1966 and asked Lennon to correct the transcribed Beatles song lyrics he used as a teaching aid - as does Antonio in the film. Trueba credits this encounter for the fact that the Beatles subsequently printed the song lyrics with their later albums.
Wikipedia provides the following illuminating snippet about John Lennon's time in Spain:
"During his stay in Almería, Lennon had rented a villa called Santa Isabel, whose wrought-iron gates and surrounding lush vegetation bore a resemblance to Strawberry Field, a Salvation Army garden near Lennon's childhood home; it was this observation that inspired Lennon to write 'Strawberry Fields Forever' while filming."
The film's title, 'Living Is Easy with Eyes Closed', comes from the song's second verse.
https://www.youtube.com/watch?v=uO1jXG38XbM
Get the latest updates, reviews and unmissable series to watch and more!
Thank you for signing up to Whattowatch. You will receive a verification email shortly.
There was a problem. Please refresh the page and try again.