Operation Chromite | South Korean war movie features vintage heroics - and a gruff Liam Neeson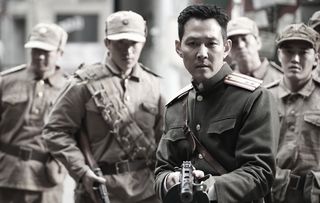 (Image credit: © Signature Entertainment)
The odds were 5000 to 1. One was all they needed.
In 1950, with the Korean War hanging in the balance, a small South Korean commando team infiltrates enemy territory in the communist North to steal military secrets and prepare the way for a UN naval invasion.
Based on real events, South Korean war movie Operation Chromite is an unmistakably old-fashioned affair, full of stiff-upper-lipped derring-do that wouldn't look out of place in The Guns of Navarone or Where Eagles Dare. There's some hokey dialogue, too, not least in the English-language scenes whenever the action cuts away to the invasion fleet commanded by Liam Neeson's gruff General MacArthur.
But Korean heartthrob Lee Jung-jae, as the undercover team's leader, makes an unflinching hero, while Lee Bum-soo oozes sadistic evil as his ruthless communist adversary. And, as the spies' mission gathers pace, the subterfuge and shootouts are really rather gripping.
Certificate 15. Runtime 108 mins. Director John H Lee
Operation Chromite (In-cheon sang-ryuk jak-jeon) debuts on Sky Cinema Premiere on Wednesday 28 June. Available on Blu-ray & DVD from Signature Entertainment.
https://www.youtube.com/watch?v=uSW8ODoGxEI
Get the latest updates, reviews and unmissable series to watch and more!
Thank you for signing up to Whattowatch. You will receive a verification email shortly.
There was a problem. Please refresh the page and try again.