Origin Wars (2016) | Twilight's Kellan Lutz and Neighbours' Daniel MacPherson team up for thrilling sci-fi bromance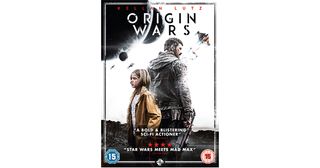 Set in the future in a time of interplanetary colonisation, Sy (Twilight's Kellan Lutz), escapes a brutal prison where mysterious experiments have been taking place. After orchestrating an escape, Sy meets Kane (former Neighbours star, Daniel MacPherson), a lieutenant working for an off-world military contractor - EXOR (overseen by Rachel Griffiths' Assad-like General Lynex), who have set in motion a plan to wipe out all life from the face of the planet in an attempt to cover up their crimes - when their terrifying 'experiments' escape.
Now, the unlikely pair must work together to rescue Kane's young daughter, Indi (newcomer Teagan Crof). Teaming up with a pair of outlaws, Gyp (Isabel Lucas) and Bill (Luke Ford), it's a race against time for the group as they clash with EXOR in an attempt to escape while battling the savage creatures that roam the barren planet…
From writer-director Shane Abbess (Infini, Gabriel), Origin Wars (aka The Osiris Child: Science Fiction Volume One) features impressive practical creature effects (think Tremors meets Labyrinth) and an inventive action-packed screenplay. But the real attraction here is the bromance that develops between the characters played by buff hunks Lutz and McPherson, so don't let this stellar sci-fi adventure pass under the radar...
Available on Digital Download 17 July and DVD and Blu-ray 24 July, 2017 from Lionsgate UK
DVD Amazon link: http://amzn.eu/3xRG7Gf (opens in new tab) Blu-Ray Amazon Link: http://amzn.eu/fos5MDh (opens in new tab)
Get the latest updates, reviews and unmissable series to watch and more!
Thank you for signing up to Whattowatch. You will receive a verification email shortly.
There was a problem. Please refresh the page and try again.