Sightseers | Alice Lowe and Steve Oram's nerdy murderers make naff partners in crime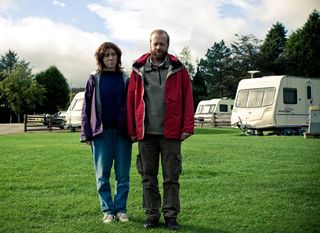 Imagine a horror film directed by Mike Leigh and you'll have an idea of what's in store from Ben Wheatley's Sightseers, a darkly comic road movie in which a bumbling Brummie couple's caravan tour through northern England turns into a murder spree. Nuts in May meets Natural Born Killers.
If you're already chuckling then this is the movie for you. Personally, I couldn't stand Sightseers but will admit that it's been accumulating fans since its debut at this year's Cannes Film Festival.
Wheatley's previous films, Down Terrace (2009) and Kill List (2011), both displayed streaks of black humour. Here the comedy is no less dark but much broader, springing as it does from stand-up characters created on stage by the film's writers and stars, Alice Lowe and Steve Oram, whose individual TV appearances include such shows as Little Britain, The Mighty Boosh and Tittybangbang.
Lowe plays the socially gauche, thirtysomething Tina, who escapes from stifling suburban Redditch and her clingy hypochondriac mother to go on holiday with new boyfriend Chris (Oram) in his Abbey Oxford caravan. Tina takes along her collection of gonks; ginger-bearded, potato-faced Chris brings his class envy and resentments, which erupt into violence at the slightest provocation. And provocation is what they encounter on their tour of beauty spots and visitor sites as they run into litterlouts, pompous busybodies and hoity-toity fellow travellers.
As victims fall to the cagoule-clad killers, Wheatley hopes to provoke giggles from the incongruity between their grotesque crimes and the naffness of the tourist spots they stop at, but the script's sketch-show humour rarely rises above the level of such feeble gags as Tina buying a giant pencil from the Keswick Pencil Museum and then struggling with it to write a heartfelt note to Chris.
More successful is the contrast between the pair's suburban pettiness and the grandeur and beauty of the English countryside, which is well captured by DP Laurie Rose. But Wheatley fails to make anything interesting from the juxtaposition of the sublimity of nature and the banality of evil. For all the miles its nerdy murderers rack up in their caravan, Sightseers doesn't really go anywhere.
In cinemas from Friday 30th November.
Get the latest updates, reviews and unmissable series to watch and more!
Thank you for signing up to Whattowatch. You will receive a verification email shortly.
There was a problem. Please refresh the page and try again.