A Street Cat Named Bob | Stray ginger tom proves a lifeline for homeless busker James Bowen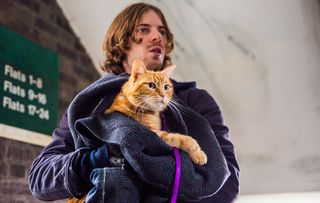 (Image credit: Andreas Lambis)
Sometimes it takes nine lives to save one.
As evidenced by countless internet memes, humans are suckers for cats. Now we have A Street Cat Named Bob to prove we are so hardwired to respond to feline cuteness that it only takes a stray ginger cat to turn a story of recovery from heroin addiction and homelessness into a feelgood tale.
To be fair, this film adaptation of street musician James Bowen's bestselling memoir is far from fluffy. Veteran director Roger Spottiswoode supplies a surprising amount of grit in the film's early stages, which show Luke Treadaway's troubled addict James struggling to hold his life together on the streets of London.
As everyone by now surely knows, he's pulled back from the brink by the appearance in his life of an injured ginger tom. The discipline of caring for another being helps keep James on the straight and narrow, and when he begins taking Bob (as he subsequently names him) on his busking gigs in town, his life really begins to pick up.
Almost inevitably, A Street Cat Named Bob does have moments when it gets a little too cute for comfort. Some of Bob and James's comic scrapes are overly twee. And the device of shooting the occasional scene from Bob's point-of-view doesn't really come off. But Treadaway (You Instead) makes a genuinely sympathetic, vulnerable lead and just about holds his own opposite his charismatic co-star (the real-life Bob plays himself, alongside a number of stand-in cats).
When it comes to the film's human supporting cast, Joanne Froggatt delivers reliable support as the doctor who helps steer James towards recovery, although Ruta Gedmintas's hippy-dippy turn as James's New Age neighbour is a bit less convincing.
In the end, though, your reaction to the film will probably depend on how you feel about cats. Some of you will want to cough up a fur ball. The rest of you will simply go 'Ah!'
Certificate 12A. Runtime 103 mins. Director Roger Spottiswoode
https://www.youtube.com/watch?v=s13Fnj8LzD8
Get the latest updates, reviews and unmissable series to watch and more!
Thank you for signing up to Whattowatch. You will receive a verification email shortly.
There was a problem. Please refresh the page and try again.