The Story of Sin (1975) | Dual format release – A delirious Polish period drama romance in style of Madame Bovary and Anna Karenina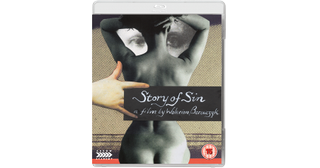 Fans of Anna Karenina and Madame Bovary will fall in love with Walerian Borowczyk's The Story of Sin, which gets a 2k restoration release on Blu-ray and DVD from Arrow Academy
Fondly indulged by her impoverished nobleman father but strictly supervised by her mother, sheltered and naïve Polish teenager Ewa falls in love with their new lodger Lukasz, who then leaves for Rome to seek a divorce from his estranged wife. When she learns that he has been imprisoned, Ewa sets off to Italy, but her journey through France and Germany finds her falling prey to con men, lusty admirers and a utopian good Samaritan…
This was the only feature that Polish director Walerian Borowczyk made in his native country. Best known for his soft-core arthouse features like The Beast, Borowczyk successfully transformed Stefan Zeromski's 19th-century romance into a dreamlike tragedy that evokes classic literary heroines like Moll Flanders, Tess of the D'Urbervilles, Anna Karenina and Madame Bovary.
The Arrow Academy release of The Story of Sin features a 2k restoration from the original film negative with new subtitles and is presented in Blu-ray and DVD. A host of bonus features are also including, amongst them are a number of new-restored shorts by the director, video essays, interviews and an audio commentary.
The Story of Sin is out now on dual format (Blu-ray/DVD) from Arrow Academy
Thank you for signing up to Whattowatch. You will receive a verification email shortly.
There was a problem. Please refresh the page and try again.