The 1970s children's sci-fi fantasy Timeslip on DVD release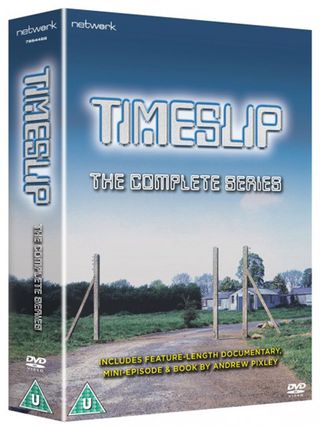 Timeslip, the 1970s British TV children's drama, gets a limited edition DVD release.
Timeslip, the 1970s British TV children's drama, gets a limited edition DVD set, featuring all four serials, a host of special features, and a 'making of' book from Network Releasing.
Devised by Ruth Boswell (The Tomorrow People, Shadows), Timeslip fused hard science and fantasy in its tale of two teenager who discover the existence of a 'time barrier' enabling them to travel to different periods. A big hit for ATV (today's ITV), the show spawned a novelisation and a comic strip which appeared in the TV Times spin-off magazine, Look-In in January 1971.
In The Wrong End of Time, teenagers Simon (Spencer Banks) and Liz (Cheryl Burfield) are sent back in time to 1940 when a Midlands naval base was taken over by German marines. In The Time of the Ice Box, they find themselves at an Arctic research station 20 years in the future. The third serial, The Year of the Burn Up, sees our young heroes in an alternate 1990, where the misuse of science threatens the Earth; and returning to the present day in The Day of the Clone, Simon goes in search of a missing Liz.
SPECIAL FEATURES • Behind the Barrier: 2009 feature-length documentary • Beyond the Barrier: mini-episode • 'Making Of' book by archive TV historian Andrew Pixley • Back to the Barrier 2003: the cast return to the series location • Day of the Clone 2007: Convention footage • PDF archive featuring scripts and production paperwork • Image gallery • Disc text features – including an overview of Timeslip comic strip artist Mike Noble
Timeslip is released by Network as a limited edition DVD box-set (buy it here)
https://www.youtube.com/watch?v=haIWZ4Sr008
Get the What to Watch Newsletter
The latest updates, reviews and unmissable series to watch and more!