Yesterday, Today and Tomorrow (1963) | Blu-ray release - Sophia Loren and Marcello Mastroianni charm in Italian comedy classic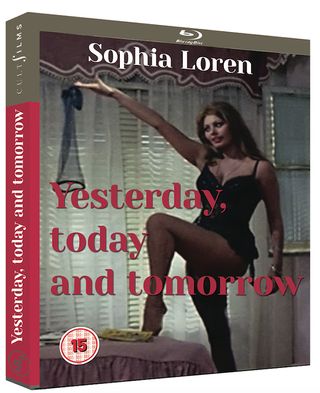 Marcello Mastroianni and Sophia Loren show off their natural chemistry to perfection in director Vittorio De Sica's Yesterday, Today and Tomorrow (aka Ieri Oggi e Domani), the 1964 Academy Award-winner for Best Foreign Film, which is now out on Blu-ray, DVD and digital from Cult Films.
This quintessentially Italian classic stands as a wry comment on Italian society.
In the first, Adelina of Naples, Loren is an impoverished woman who supports her husband Carmine (Mastroianni) by selling black market cigarettes. Following a brush with the law, she schemes to stay pregnant in order to avoid prison. But after child number seven, Carmine can't find the strength to try for another…
In Anna of Milan, Loren is the wealthy Christian Dior-dressed wife of an industrialist having an affair with a writer (Mastroianni) with whom she dreams of running away, that is until the day he crashes her Rolls Royce…
Completing the trilogy, Mara of Rome, features one of the most famous striptease scenes of all time, when Loren's call girl takes up a vow of abstinence, but only after turning the head of the naïve young man preparing for the priesthood.
Special features include: • Exclusive documentary: Vittorio D • Exclusive documentary: Sophia, Yesterday, Today and Tomorrow, featuring contributions from Woody Allen, Giorgio Armani, Clint Eastwood, Mike Leigh, and Ken Loach. • For the first time ever the film is presented in both its original language with new, improved, English subtitles – and alternatively with an English audio track.
Get the latest updates, reviews and unmissable series to watch and more!
Thank you for signing up to Whattowatch. You will receive a verification email shortly.
There was a problem. Please refresh the page and try again.