Changeling | Angelina Jolie's heroic single mom takes on the LAPD in Clint Eastwood's true-crime shocker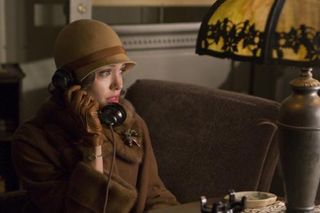 Angelina Jolie is so gorgeous, so exotic, her looks and manner so singular that you'd think the range of roles open to her would be limited. An ideal Lara Croft; perfect as a slinky assassin in Wanted; Oscar-worthy as a rebellious psychiatric patient in Girl, Interrupted; but surely out of place as a lower-middle class single mom in 1920s Los Angeles in Changeling?
Well, it turns out that it takes only a few moments to adjust to the sight of Jolie in a cloche hat when watching Clint Eastwood's new movie, which is based on a sensational true story of corruption, cover ups and murder that was unearthed by screenwriter J Michael Straczynski in the dusty archives of Los Angeles City Hall. The tale he dug up is so shocking and so gripping that Jolie's beautiful cat eyes and bee-stung lips don't prove the least distracting.
Jolie's character is Christine Collins, who is single-handedly raising her nine-year-old son, Walter, while working as a telephone company supervisor, a job which finds her – in one of the film's lovingly observed period details – gliding about the phone exchange on roller skates.
But on Saturday 10 March 1928, when Christine returns home from an extra shift at work, she finds that Walter has gone missing. Reporting his disappearance to the LA police, she is told by a patronising officer to wait for 24 hours. When the police do get involved, an exhaustive search proves fruitless. (If you don't want to know too much about the way the story unfolds, skip the next few paragraphs and avert your eyes from the trailer.)
Then, five months later, the police announce that Walter has been found. Police chief James E. 'Two Guns' Davis (Colm Feore) and Captain J. J. Jones (Jeffrey Donovan from Burn Notice), head of the LAPD's juvenile investigation unit, seize upon the chance to distract public attention from the charges of corruption and violence that have been building against the force and arrange for a PR-friendly reunion of mother and child in front of the press.
There is only one problem. The boy who steps off the train isn't Walter.
The police, though, don't want to lose face and urge Christine to take the boy home, on a 'trial basis'. Under pressure, she agrees. But when she, not unreasonably, pushes the authorities to continue the search for her son, pointing out that the one they have fobbed her off with is three inches shorter than the real Walter, has different dentition, and is circumcised, Captain Jones accuses her of being delusional and has her locked up in a psychiatric ward.
Even then, Christine doesn't give in, and she fortunately has an ally in crusading Presbyterian minister Gustav Briegleb (John Malkovich), who has been railing against police corruption in the pulpit and on radio. But it takes a separate, seemingly unrelated criminal investigation, before the gruesome truth of Walter's disappearance is uncovered and the police admit their mistakes.
(The plot shy may now rejoin us.)
At the Cannes film festival earlier this year, Eastwood described Changeling as "a horror story for adults, not for thrill-seeking kids". Fittingly, he doesn't make the material any more lurid than it already is. Where other directors might have been tempted to ramp things up even further with stylistic flourishes (one shudders to imagine what the likes of Brian De Palma would have made of the subject), Eastwood tells the story in a calm, measured, and resolutely old-fashioned manner.
It's enough. As Christine's ordeal intensifies, the viewer's outrage intensifies even more. And we don't only feel outrage at Christine's treatment, but outrage at the treatment of women in general in 1920s America. With breathtaking arrogance, the male cops and male psychiatrists feel invulnerable because their adversary is a woman. After all, as one of them says, "Everyone knows women are emotional".
In the psycho ward, Christine finds herself banged up under the notorious Code 12 alongside other women who have got on the wrong side of the LAPD. "If we're insane no-one has to listen to us," another inmate tells her. But even when faced with electro-shock therapy, Christine's resolution never wavers – and nor does Jolie's grip on the character.
The Jolie we're used to seeing on screen might have wild eyes and lips that look as though they've been inflated with a bicycle pump, but she demonstrates here that she can play 'ordinary' when required; she may have won her Oscar for acting insane, but she proves she can pull off sanity too; and she also shows that you don't have to be a thrill-seeking adventurer to be heroic.
Get the What to Watch Newsletter
The latest updates, reviews and unmissable series to watch and more!
A film critic for over 25 years, Jason admits the job can occasionally be glamorous – sitting on a film festival jury in Portugal; hanging out with Baz Luhrmann at the Chateau Marmont; chatting with Sigourney Weaver about The Archers – but he mostly spends his time in darkened rooms watching films. He's also written theatre and opera reviews, two guide books on Rome, and competed in a race for Yachting World, whose great wheeze it was to send a seasick film critic to write about his time on the ocean waves. But Jason is happiest on dry land with a classic screwball comedy or Hitchcock thriller.