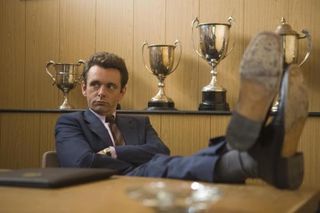 What is it with Michael Sheen and famous people?
His uncanny, chameleon-like ability to play celebs on screen has already seen him get inside the skin of Tony Blair (in The Deal and The Queen), Kenneth Williams (in Fantabulosa! and David Frost (in Frost/Nixon). Now, with The Damned United, he's pulled off another eerily accurate impersonation of an iconic figure - football legend Brian Clough.
Actually, what Sheen does goes much deeper than simple mimicry. Yes, he gets his characters' mannerisms right, gets all the familiar verbal tics and physical foibles down pat, but he also gives viewers a sense of what is going on inside and exposes something revealing about these personalities - whether it's the ruthlessness inside Blair's slippery charm, Williams' neurotic neediness, or Frost's surprising combination of silkiness and grit.
With Clough in The Damned United, what Sheen shows us is the insecurity that apparently lurked behind its subject's notorious cockiness. The inner doubt of the man who famously said on Parkinson: "I certainly wouldn't say I'm the best manager in the business, but I'm in the top one."
A desperate urge to prove himself is what drives 'Old Big Head' over the course of this tragi-comic biopic, which centres on Clough's calamitous 44-day period in charge of reigning league champions Leeds United in 1974.
Based on David (Red Riding) Peace's much-praised novel and adapted by Peter Morgan (writer too, as it happens, of The Deal, The Queen and Frost/Nixon), the movie flashes back and forth between those doomed 44 days and the years leading up to them, during which Clough and his loyal assistant Peter Taylor (sympathetically played by Timothy Spall) had taken lowly Derby County into the top flight.
In taking the post at Leeds in 1974, book and film assert, Clough is driven by a desire to outdo his predecessor in the job, Don Revie, who had made the club the dominant force in English football. By Clough's reckoning, though, their achievements are tarnished by the cynical tactics and brutal playing deployed by Revie and his team.
"As far as I'm concerned," Sheen's Clough declares to the assembled Leeds players at their first training session together, "you can throw all those medals you've won in the bin, because you won them by cheating."
Unsurprisingly, his brief tenure at the club then lurches from one disaster to the next…
Even if you have next to no interest in football, The Damned United is enormously entertaining. Though a lot lighter in tone than Peace's book, Tom Hooper's film works both as a revealing character study and as a fascinating excavation of the period.
A good many of the period details are played for comedy – as when Clough, eager to make the visiting Leeds team feel welcome for a fixture at Derby County, goes round the visitors' dressing room before the game, depositing individual ashtrays for each player.
The most noticeable difference between football's past and present, however, is the amount of money sloshing about in the game. The Damned United reminds us that back in the years before satellite TV splurged its millions on the Premiership, players and managers lived in modest suburban homes and drove ordinary cars.
These period touches, though, are the film's icing. The rich cake itself is Sheen's Clough, his complex flawed personality revealed through his relationships with Derby County chairman Sam Longson (a bluff, avuncular Jim Broadbent), with Colm Meaney's Revie and, above all, with his trusty, put-upon lieutenant Taylor.
Whether the film presents us with the real Clough is open to question (his family clearly disagree and boycotted the film's premiere in protest), but Sheen is so persuasive in the role that you accept the veracity of his portrayal. And it isn't just the body language and the nasal voice that convince. Somehow, he hypnotises the viewer into accepting him as Clough.
So it comes as a shock, at the end of film, when there's footage of the real Clough and you're forced to acknowledge that, well, actually, Sheen doesn't look much like him at all. Until then, however, Sheen certainly had me fooled.
General release from 27th March
A film critic for over 25 years, Jason admits the job can occasionally be glamorous – sitting on a film festival jury in Portugal; hanging out with Baz Luhrmann at the Chateau Marmont; chatting with Sigourney Weaver about The Archers – but he mostly spends his time in darkened rooms watching films. He's also written theatre and opera reviews, two guide books on Rome, and competed in a race for Yachting World, whose great wheeze it was to send a seasick film critic to write about his time on the ocean waves. But Jason is happiest on dry land with a classic screwball comedy or Hitchcock thriller.
Get the latest updates, reviews and unmissable series to watch and more!
Thank you for signing up to Whattowatch. You will receive a verification email shortly.
There was a problem. Please refresh the page and try again.