Romantics Anonymous - Love is like chocolate in a deliciously bittersweet French romcom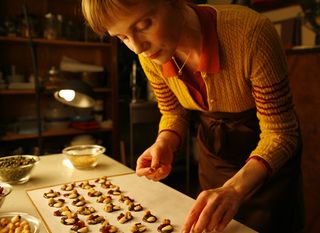 Set in Lyon amid the world of chocolate making, charmingly old-fashioned French romantic comedy Romantics Anonymous is a truly mouth-watering confection. Yet for the film's hero and heroine love is a bittersweet prospect.
Painfully shy chocolate-maker Angélique (Isabelle Carré) and buttoned-up chocolate factory owner Jean-René (Benoît Poelvoorde) are clearly made for each other but their terror of social interactions turns their hesitant courtship into a series of disasters. When Jean-René invites Angélique out to dinner, for example, he sweats so much from nerves that he has to dash constantly to the restaurant bathroom to change into yet another of the clean shirts he has secreted there for the occasion.
The pair's mishaps are hilarious, but underneath the farce it's obvious that writer-director Jean-Pierre Améris has real tenderness for his hapless lovers. True, his film has a decidedly soft centre, but lovers of romantic comedies from Hollywood's golden age will find Romantics Anonymous delicious.
Movie Talk star rating:
Released on DVD & Blu-ray on Monday 16th April by Revolver Entertainment.
https://www.youtube.com/watch?v=upKDjLBtU_A
Get the latest updates, reviews and unmissable series to watch and more!
Thank you for signing up to Whattowatch. You will receive a verification email shortly.
There was a problem. Please refresh the page and try again.