Mr Selfridge guest star Alfie Boe: 'They wanted a tramp-like singer – and I fitted the bill!'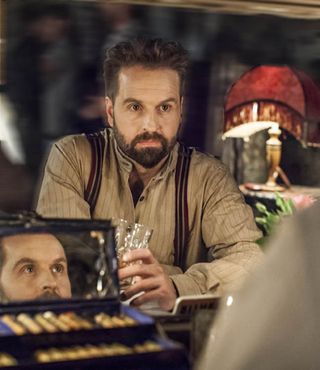 (Image credit: Patrick Redmond +353872600976)
TV Times magazine goes on set to see 'The Nation's Favourite Tenor' Alfie Boe make his TV acting debut in ITV's Mr Selfridge (Sunday, Feb 23)...
How did your role in Mr Selfridge come about?
"They were looking for a tramp-like singer and obviously I fit the bill there! The role came about after the director, Lawrence Till, put my name forward. I had to tape myself singing and acting, and they went for it."
How did you feel when you found out you'd won the part?
"I was very lucky to get this role. It's my first TV acting job and I'd love to do more, I really would. I've enjoyed every single minute and it's been an amazing experience. I just hope I've done a good enough job to get another role!"
Did you do a lot of research for the part?
"I knew a lot about the music of this era before doing Mr Selfridge because my father was a big fan of tenors from the 1900s like the Austrian tenor Richard Tauber, and I've done similar things in concert."
Is it correct that Richard is an old friend of former gaiety girl Lady Mae Loxley (Katherine Kelly)?
"Lady Mae and Richard had a past relationship, but it became more friend-like than romantic. Lady Mae comes along to the show and pours her heart out about her troubles and he gives her advice. She also asks Richard to take part in a charity concert at Selfridges, and he agrees."
You duet with Katherine in the show, too. What was that like?
"Katherine has a beautiful voice and it was really nice to work with her!"
You were filming on different days to Jeremy Piven, so did you get to meet him?
"We have mutual friends in LA, but have never met. It'd be nice one day to say: 'Hello Jeremy, I was in the same show as you!'"
Get the latest updates, reviews and unmissable series to watch and more!
Thank you for signing up to Whattowatch. You will receive a verification email shortly.
There was a problem. Please refresh the page and try again.