Mr Selfridge's Kara Tointon: 'Hannah and I couldn't stop laughing on our first scene together'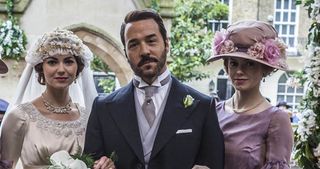 (Image credit: Patrick Redmond +353872600976)
Former EastEnders star Kara Tointon talks to Soaplife about her new role in Mr Selfridge (opens in new tab)… playing sisters with her sister, Hannah!
Sisters in real life and sisters in Mr Selfridge. Is that weird? "We've never worked together before and, every so often, I look at Hannah and think 'What on earth are you doing here?'", laughs Kara (opens in new tab). "It feels very surreal." In a good way, though? "In a very good way," Kara says.
So, any sisterly squabbling on set?
"Not really. The first scene we did together, neither of us could stop laughing. It just felt so weird."
How did you both come to be cast in Mr Selfridge?
"The call for me to audition came 10 minutes after Hannah (opens in new tab)'s. We usually like to keep work separate from family stuff, so I said, 'Bubs, you go for this one', and she said the same to me. But when we realised we wouldn't be going for the same part, but would be playing sisters [Violette and Rosalie Selfridge], we decided to go for it - and we got it!"
The roles have been re-cast since the last series, haven't they?
"Yes. There's a new family dynamic in the Selfridge household. It's now 1919, which is five years on from the end of the last series, and our mother, Rose, has died. I was watching the previous two series on DVD and my mum was like, 'Is that who you're playing? You look nothing like her'."
Was it strange stepping on the shoes of another actress?
"It was a bit strange for me, and Hannah, too, to join this already well-established family, but everyone was very welcoming. Plus, you get used to being the new girl when you're an actress."
You both get to wear the most fabulous costumes!
"Oh, they're amazing. Getting dressed up in 1919 clothes is one of the best things about doing period stuff. The sets are incredible, too. I want to live there!"
We've heard you get married in the series?
"Yes! I get married and my wedding dress was specially made for me. It's an ivory silk gown with a long train. The first time I saw it, I just went 'Wow!' Although the head dress did make me look a bit like a goat herd! The wedding was incredible, too. I felt like I really was getting married."
Do you still watch EastEnders?
"I catch it occasionally, but I've changed so much since I played Dawn. I think you do change a lot in your 20s. You do a lot of growing up. My voice has changed, too. I think that might be because I've done so much theatre over the last few years."
You famously won Strictly Come Dancing in 2010. Would you consider any other reality TV?
"No. Strictly was the only one I wanted to do. I have no interest in doing any others. I prefer playing a character to being myself on screen and Strictly is very much about you. I don't regret it, though. It pushed me and I learned so much about myself - it was like an intense course in finding out who I am. It was one of the most special times of my life. I think the key to it is, go in with right attitude, have fun and don't take it too seriously."
Mr Selfridge (opens in new tab), ITV, Sundays
Get the latest updates, reviews and unmissable series to watch and more!
Thank you for signing up to Whattowatch. You will receive a verification email shortly.
There was a problem. Please refresh the page and try again.