NTAs host Dermot O'Leary: 'No one begrudges Ant & Dec, apart from my mum!'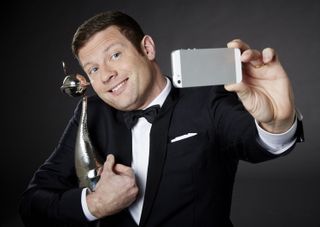 Dermot O'Leary will be hosting British TV's biggest night of the year when he takes the stage at the National Television Awards (opens in new tab) tonight.
We caught up with him to talk about what he's been watching on TV this year and whether he could beat Simon Cowell in an arm wrestle..
It's been another great year for British TV...

"It has been a good year, especially when it comes to drama, which I watch a lot of. That's my passion, I love the escapism of switching off and getting lost in a good series. I love box sets, but I also enjoy watching stuff when it's on as well because invariably everyone's talking about it."


What have been your favourite shows of the year?

"There's been so much stuff, it's almost impossible to remember it all. The Walking Dead was good again this year, I enjoyed The Missing, Game of Thrones and Downton Abbey were all great..."
But if you had to choose one...

"I think I'd go for Happy Valley. Sarah Lancashire is a national treasure now and she was fantastic in that. Because we're both quite busy, me and my wife end up watching these shows on catch-up while we're away and we watched that on a boat in Norway, travelling from the north of Norway to the south in July, when the sun never sets. We'd watch it after dinner before we went to bed. A nice relaxing, romantic way to finish the evening!"
Would you like to see Sarah Lancashire win an award for her performance?
"Yes but she's in a really tough category. She's up against Benedict Cumberbatch, who was phenomenal in Sherlock, Dame Maggie Smith who's always great in Downton Abbey and Sheridan Smith who was incredible in Cilla. To be honest they all deserve to win. In many ways I wish we had an award for best actress and best actor, only because that means we'd have more awards to give out!"
The ceremony will be broadcast live on ITV, are you ever worried that something will go wrong live on air?
"No, not really, because when unexpected things happen - that's the best bit of the job. My first boss on T4 once told me: 'Just remember where you're going because it doesn't matter what happens then. As long as you remember where you're going then you can embrace all the insanity and you never look uncomfortable. Every single bit where you're on TV is a sandwich and you just worry about the two bits of bread and you'll be able to enjoy the filling.' Which was great advice!"
What did you make of Peter Capaldi in Doctor Who?
"It was quite difficult for me to watch that because it was on while I was doing X Factor or as I was supposed to go on! I caught a couple of episodes on catch-up and Peter Capaldi is great. I'm a bit sad that he'll never be Malcolm Tucker again though!"
If there is any show you could do a cameo in what would it be?

"I'd love to have a cameo in Game of Thrones. I think I'd either be fairly ensconced in the capital of King's Landing or I'd take the black and head up to the wall. Fighting alongside Jon Snow? I'd kill for that! I'd probably die in the first five minutes though - everyone seems to die in that show!"
Ant and Dec have won the Best Presenters Award 13 times in a row now - do you think they should be banned from the category?

"Absolutely! We should retire the award - there shouldn't even be a best presenter award any more. Just split them up or something! The question people always ask me is 'What's it like to finish runner-up?' and the truth is that I have no idea if I do finish runner-up! For all I know I might be finishing fourth every year! The thing is they're really really good so no one ever begrudges them - apart from maybe my mum!"
You're good friends with many of the nominees, who's good on a night out?

"Graham Norton and Alan Carr are great to go out with. Jonathan Ross is a laugh when he gets going, Ant and Dec are good fun, Keith Lemon's an old mate... I look down the list and I've been drunk with most of these people, which is a worry. This actually sounds a bit like I have a drinking problem doesn't it!"
What are your biggest viewing guilty pleasures?
"I'm not sure they count as guilty pleasures, but I love Coast and Springwatch and stuff like that. Especially when I'm cooking, I stick it on in the background like radio. I like learning a lot..."
Could you beat Simon Cowell in an arm wrestle?

"No, for two reasons. Firstly he's my boss and it wouldn't go down that well, and secondly Simon's upper body strength is quite spectacular - he does a lot of push-ups every day. I'm more cardio based. I'd probably beat him in a running race!"
The National TV Awards will be shown live on ITV on Wednesday at 7.30pm.
Get the latest updates, reviews and unmissable series to watch and more!
0
Feature writer for TV Times, What's On TV, TV & Satellite Week and whattowatch.com
Sean has been writing about all things telly for over 10 years and in that time he's been lucky enough to interview stars like Ian McKellen, Tom Hardy and Kate Winslet. His favourite shows are The Great British Bake-Off, People Just Do Nothing and Succession and in his spare time he enjoys drinking tea, doing crosswords and watching football.
Thank you for signing up to Whattowatch. You will receive a verification email shortly.
There was a problem. Please refresh the page and try again.