Alan Fletcher on Neighbours' balloon crash: 'Karl's faced with having to perform emergency surgery!'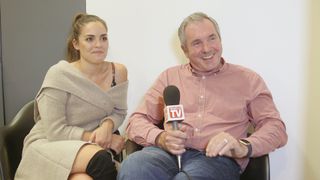 As three lives hang in the balance following the hot air balloon crash, Neighbours' Alan Fletcher reveals how Karl Kennedy battles to save those in jeopardy...
Neighbours ended in disaster on Tuesday night when the hot air balloon hired for Lauren's hen party fell out of the sky and crashed!
Earlier, Lauren was excited as she, Paige, Piper and Elly embarked on the hot air balloon adventure. But their adventure soon turned to panic when the balloon's main burner went out and it started to free-fall towards the ground!
As everyone in Erinsborough raced to the crash site, it became clear that jailbird Jacka was behind the sabotage.
Lauren Turner at the scene of the disaster – will she survive?
Talking about the aftermath of disaster, which continues tomorrow night on Channel 5, Alan Fletcher – aka Dr Karl Kennedy – told What's on TV: "The boys arrive [at the scene] in the car and Karl immediately starts attending to everyone who's injured, as does Mark [Brennan] and everyone else.
"Karl immediately discovers that one of the people in the balloon is in a life-threatening situation, emergency surgery's needed, they can't get the ambulance there in time – what will he do?
Trouble is though, Karl was out boozing the night before – is he still intoxicated?
"Well, he's certainly under the weather," reveals Alan. "He's clearly not drunk or anything like that, but there will be questions drawn about his competency as a result of his actions in this scene. And that becomes a bit of an on-goer for a while. Even he begins to question in his own mind whether or not he's actually dealing with situations competently."
Karl has to perform emergency surgery - but will last night's booze-up impair his judgement?
It turns out that the surgery Karl has to perform is pretty gruesome indeed…
"It seems bizarre, but it's something that really happened, medically. When you see it and you're aware of it, it's full on!"
Three lives hang in the balance following the incident – and Alan suggested there could major repercussions for 'saboteur' Jacka…
"Everybody's really quite seriously injured, but rather than tell you 'who' what's actually more important, in the story, is that the person who set all of this in motion has ironically done themselves more damage than they ever could have imagined."
One person who manages to escape the disaster is Paige Smith – and actress Olympia Valance told us that things get rather interesting when she's found by priest Jack Callahan…
"Paige decides, when the balloon's going down, that instead of staying in the balloon and waiting for it to crash, she looks out, sees a lake and she decides to jump. Jack finds her on the edge of this river and she's hypothermic."
With Paige needing to be warmed up, it seems Jack is only too happy to oblige…
"He finds a shelter and wraps Paige up in a blanket… and himself, too," teases Olympia.
After her near-death experience, Paige gets cosy with priest Jack
So, does one thing lead to another?
"Perhaps it does," teased Olympia. "It looks like it. The audience will hope it happens because we've been waiting for this to happen for some time – but who knows. Could just be lots of cuddles!"
Watch the aftermath of the Neighbours' balloon disaster on Wednesday October 12 at 5.30pm on Channel 5
Get the latest updates, reviews and unmissable series to watch and more!
Thank you for signing up to Whattowatch. You will receive a verification email shortly.
There was a problem. Please refresh the page and try again.