Ex-Coronation Street star Ryan Thomas on his guest stint in Neighbours: 'It was surreal'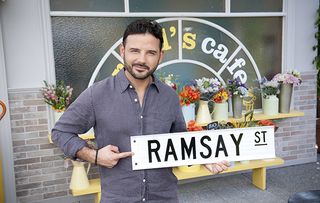 The actor arrives in Erinsborough next week as mysterious newcomer Raphael Humphrey
It's a long way from Weatherfield! Actor Ryan Thomas, who played Corrie builder, Jason Grimshaw, makes his Neighbours debut next week. He's guest-starring in 18 episodes as the mysterious Raphael Humphrey. We caught up with him to find out more…
How did this part come about?
Ryan Thomas: "I'd just finished filming Celebrity Island with Bear Grylls and was on holiday with my daughter, Scarlett, when my agent called and asked me if I'd like to take on the role. I wasn't sure at first, but then the executive producer of Neighbours called and explained the character to me, and I was really excited. Raphael sounded such a dark, mysterious character; one that I could really go on a journey with."
Tell us more about him…
RT: "He's angry, upset and an emotional wreck. He's very guarded and certainly isn't out to make friends. It's a mystery why he's on Ramsay Street and you don't really know what kind of person he is. He could be out for revenge or looking for answers."
What is his back story?
RT: "He lived with his mum in Brazil until he was 10, and then there was a fire and his mum was badly burned. After that, he went to live with his dad, north of Manchester. So he doesn't have an Aussie accent - he speaks like a Northern lad."
Did it feel surreal being on the Neighbours set?
RT: "It really did! There I was on Ramsay Street with Toadie, Dr Karl and Paul Robinson – classic Neighbours characters. I still can't believe I was in it, actually. I've been a fan for years. It was a ritual that when I got home from school, Neighbours would go on. I'm sure it's the same for most people of my generation."
Is filming Neighbours different to filming Corrie?
"It's the same process, but the cast is much smaller on Neighbours. I like that, because you get to see the same people all the time and there's a real familiarity. It also means it's much easier to remember names – although there was a bit of confusion whenever 'Ryan' was called, because the character Toadie is played by Ryan Maloney. He became 'Ryan One' and I was 'Ryan Two'. Bizarrely on Corrie, Katherine Kelly, who played Becky, used to call me 'Ryan One' and her boyfriend was 'Ryan Two". When she married him, he became 'Ryan One' – I insisted!"
Would you have liked to stay in the show for longer?
"Yes, but it's too far away from home and my daughter. I love the outsdoorsy lifestyle, though. After a day's filming, I'd go to the beach and watch the sunset, rather than going home to watch telly. You can't do that in the UK!"
What's next for you?
"What I'd love to do this year is work with my brother Adam (who played Emmerdale's Adam Barton). Right now, though, it's back to the drawing board for us both. I'd love to be in a gritty drama like 'Our Girl.'"
Would you consider returning to Corrie?
"It's forever in my heart but I'm not ready to go back yet; it would be like going backwards rather than moving forwards. I keep up with the gossip and who's doing what, though – Sue Cleaver (Eileen) rings me all the time. Whenever people stop me in the street, it's to tell me to go back and sort Phelan out. What's that about? I haven't seen it in a while…"
Ryan Thomas starts on Neighbours next week.
Get the latest updates, reviews and unmissable series to watch and more!
Thank you for signing up to Whattowatch. You will receive a verification email shortly.
There was a problem. Please refresh the page and try again.