Neighbours' Jenna Rosenow reveals trouble ahead for newly-engaged Amber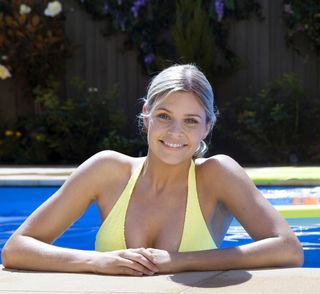 To say the last week has been an action-packed one for the residents of Ramsay Street would be an understatement.
Hit by a terrifying tornado, many in Ramsay Street were lucky to escape with their lives – not least, Amber Turner and her boyfriend Daniel Robinson (Tim Phillipps (opens in new tab)), whose car roof was blown off while they were in it.
The couple had been midway through a row about Daniel's ex-girlfriend when the tornado hit. They made it to a garage to ride out the storm and the life-and-death situation brought them closer together. So much so that Daniel spontaneously proposed to Amber – and she accepted.
Will there be a wedding, though? Jenna Rosenow (opens in new tab), 23, who plays Amber, says there could be heartbreak.
"Amber is a little naïve; she's looking for that perfect guy, that perfect relationship," Jenna told the Daily Express. "Daniel's the type of character who always rushes into things - he's in love with the idea of being in love. They'd like to believe it's the real thing, but they're so young. It could end in tears."
The pair face their first test in upcoming episodes, when it's revealed that Amber's best friend Imogen (Ariel Kaplan (opens in new tab)) has feelings for Daniel. Their engagement faces its second big test when Daniel's ex-girlfriend - the subject of that pre-storm argument - makes a surprise appearance.
One thing's for sure, Amber's not going anywhere.
"I've just signed up for another year on the show and I'm thrilled," Jenna said. "Neighbours is iconic and the last year has been amazing. I can't wait to see what else is in store for Amber."
Neighbours (opens in new tab) continues on Channel 5, on Monday, September 22, 1.45pm
Get the latest updates, reviews and unmissable series to watch and more!
Thank you for signing up to Whattowatch. You will receive a verification email shortly.
There was a problem. Please refresh the page and try again.