'Viewers think of me as their mum!' says Neighbours' star Jackie Woodburne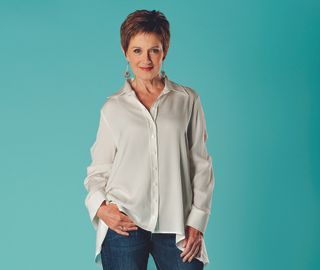 Jackie Woodburne talks to Soaplife about travel, health - and playing Susan Kennedy in Neighbours...
Do you feel like the "mother" of Neighbours?
"I guess I'm quite like a mother figure on the show. We have a great bunch of kids on Neighbours right now. They're such fun to work with and to hang out in the green room with. They invigorate us older ones with their enthusiasm."
You're like a mum to a lot of the viewers, too!
"Thank you. It's very humbling when young people come up to me and say that, because of Neighbours, I've been part of their lives and they've grown up with me. It's lovely."
Is there one characteristic of Susan's you wish you had?
"Her energy! She seems to manage on about two hours sleep a night to do a full day's work, to catch up with friends, do yoga, have dinner and drinks, sort out everyone's problems… Then do it all again the next day. I'd like to be like that."
What do you like doing when you're not working?
"Travel is a great passion of mine. It's my greatest extravagance. My favourite journey is probably to the south island of New Zealand. Two weeks in a car - no plan, just driving and stopping wherever. It's an extraordinarily beautiful part of the world."
Are you a fan of the UK?
"I feel especially connected to the UK because I was born in Northern Ireland. We moved to Australia when I was three, but I still have family in Northern Ireland and in Devon whom I visit when I can."
What's the most important thing in life?
"Being fit and healthy. I've realised this as I've got older. It's inevitable things will start to change and drop and wrinkle as we age – unless you go down the surgery route, of course, but then that takes on a life of its own! If you feel good, you'll look good no matter what your age."
Neighbours continues on Channel 5, Mon-Fri, 1.45pm & 5.30pm
Get the latest updates, reviews and unmissable series to watch and more!
Thank you for signing up to Whattowatch. You will receive a verification email shortly.
There was a problem. Please refresh the page and try again.