'We had unfinished business in Twin Peaks' – 10 things you need to know about the new series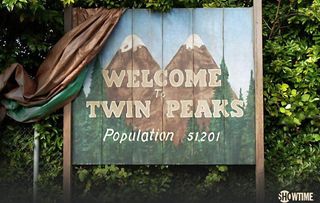 David Lynch's Twin Peaks returns to our screens on Sky Atlantic after an absence of 26 years. Here's everything you need to know about the revamped cult classic…
Stylish, mysterious, surreal and very cool, Twin Peaks was an instant cult sensation when it first screened in the UK in 1990. It ran for two series and 30 episodes. Now, the revival of the show after 26 years – directed again by the legendary David Lynch – is one of the most talked-about TV events of the year.
The original drama saw Special Agent Dale Cooper (Kyle MacLachlan) investigate the murder of homecoming queen Laura Palmer in the remote mountain town of Twin Peaks, recording his case notes into a tape recorder for never-seen assistant Diane.
As fans of the original will remember, Cooper was so enamoured with the cherry pie and 'damn fine coffee' served at the fictional town's Double R Diner that it became a national catchphrase.
MacLachlan says he never expected to reprise the role of Agent Cooper. "I love the character of Dale Cooper and I'd always harboured a fantasy that I might be able to revisit him in some way," he said.
Since the show ended, MacLachlan has had recurring roles in Desperate Housewives and Marvel's Agent's of SHIELD, as well as becoming a successful winemaker. But he jumped at the chance to return to his most famous role – for which he won a Golden Globe and was twice Emmy-nominated.
The idea for the new series began in 2012, when co-writer Mark Frost – inspired by the booming state of TV – contacted director David Lynch about reviving the show. "People were obviously hungry for out-of-the-box storytelling. I felt we should be part of that," said Frost. "And we had some unfinished business."
David Lynch was keen to bring the show back. Although he had directed film hits The Elephant Man, Blue Velvet, and Mulholland Drive in the 1980s and 1990s, it was proving harder for him to have success in a movie landscape dominated by romcoms and superheroes. 'The art house cinemas are gone," said Lynch, now 71. "Cable TV is the new art house. It's a very beautiful time now for television."
Filming the 18-part new series – which begins with a double bill – took place in some of the original Washington state locations, and again features a haunting soundtrack by composer Angelo Badalamenti. Big-name newcomers include Laura Dern, Monica Bellucci, Naomi Watts, Jennifer Jason Leigh and Tim Roth.
The X Files' David Duchovny, who memorably played cross-dressing government agent Denise Bryson, also returns for the new series.
Other returning stars include Peggy Lipton, who played Norma Jennings, owner of the Double R Diner, and Madchen Amick, who played Shelly, the pie-serving waitress.
Twin Peaks premieres on Sky Atlantic on Tuesday, May 23 at 9pm
Get the latest updates, reviews and unmissable series to watch and more!
Thank you for signing up to Whattowatch. You will receive a verification email shortly.
There was a problem. Please refresh the page and try again.