10 Things You Need To Know About Game of Thrones Season 7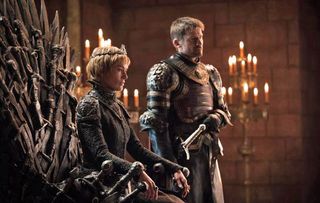 The long-awaited seventh and penultimate series of Game of Thrones is finally upon us! And here are some wicked insights
Game of Thrones' seventh series premieres on Sky Atlantic this Monday (July 17), and we're expecting jumbo jet-sized dragons as well as epic battles on land and sea.
So as the brutal contest for the Iron Throne heats up, here is everything you need to know about the next chapter in the ice-and-fire saga…
WINTER IS HERE
For years we've heard that 'winter is coming' and snow will finally engulf the Seven Kingdoms this season. Producers even changed the filming schedule to capture genuine wintery conditions, hence the late start-date. "At the end of this season, winter is here," said show-runner David Benioff. "Sunny weather doesn't really serve our purposes any more."
ACTION-PACKED
It may be a shorter, seven-episode run, but the same time and budget went into shooting, meaning fans can expect a higher-quality and faster-paced season, with the final episode expected to be the longest yet. "Everything happens quicker than I'm used to," said  Nikolaj Coster-Waldau, who plays Jaime Lannister. "Things that normally take a season now take just one episode."
'THE END GAME'
The imminent arrival of Daenerys (Emilia Clarke) in Westeros is a real game changer according to executive producer Bryan Cogman. "Dany in Westeros makes it a new show. It has this amazing ripple effect throughout every storyline that's exciting to explore. There's a pace and urgency that's very palpable. This is the end game," he said.
SUPER-SIZED FIREPOWER
Daenerys's once-little hatchlings are now grown-up, super-sized and the secret weapons of her army. Will Westeros go up in flames? "The dragons this year are the size of 747s," said director Matt Shakman. "Drogon is the biggest of the bunch. His flame is 30ft in diameter!"
5. COALITIONS OF CHAOS
The focus this series is on fresh alliances and coalitions of chaos as the great Game's major players become closer than ever before. Daenerys has formed a formidable army – including her Unsullied, the Dothraki, the Greyjoys and troops from Dorne – while Jon Snow (Kit Harington) has support from the Wildlings, Knights of the Vale and the surviving Houses of the North. But will the pair finally meet?
"There are a whole bunch of reunions and first-time meetings that people have been waiting a very long time to see," said show-runner Dan Weiss.
6. CAST-IRON VILLAIN
With Ramsay Bolton dead, could the Seven Kingdoms have its new villain in Euron Greyjoy? He pushed his brother Balon off a bridge to become King of the Iron Islands and is now chasing after his niece Yara and nephew Theon. "After this season, Ramsay's going to look like a little kid," said Pilou Asbæk, who plays Euron.
NEW FACES
Merlin actor Tom Hopper and Dickensian's Joseph Quinn join the cast, but Harry Potter's Jim Broadbent takes on the most significant new role as an archmaester, who crosses paths with Sam Tarley.
"I'm an old professor character," teased Broadbent. "I've done five episodes, with sort of one major scene in each episode."
OFF WITH HIS ED!
Producers wanted to surprise Maisie Williams, who plays Arya, by casting her favourite pop star Ed Sheeran, who recently teased that his cameo involves serenading Arya.
GENDRY TO RETURN?
Gendry, the illegitimate son of Robert Baratheon, was last seen rowing away from Dragonstone in season three, but Joe Dempsie, who plays him, has been spotted in Northern Ireland, Iceland and Spain. Coincidence?
POSSIBLE PREQUEL
Season eight will be the last, but following rumours that four possible spin-offs will continue George RR Martin's saga, HBO's Casey Bloys has suggested that just one prequel could be greenlit: "The bar set is so high that my hope is to get one show that lives up to it."
Game of Thrones premieres on Sky Atlantic at 2am on Monday, July 17, followed by a repeat at 9pm
Get the latest updates, reviews and unmissable series to watch and more!
Thank you for signing up to Whattowatch. You will receive a verification email shortly.
There was a problem. Please refresh the page and try again.