10 Years Ago in the Soaps including Coronation Street - Week Beginning August 11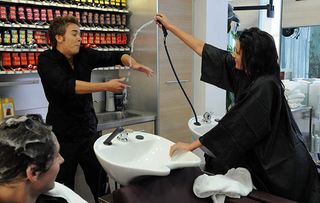 10 Years Ago in the Soaps - Remind yourself of the soap drama happening in Coronation Street, EastEnders, Emmerdale and Hollyoaks 10 years ago this week!
David Platt got the sack in Coronation Street, Ricky Butcher was embarassed in bed in EastEnders, Rodney Blackstock's work of art went up in smoke in Emmerdale, and copper Calvin Valentine turned killer in Hollyoaks - 10 Years Ago in the Soaps…
10 Years Ago in the Soaps - Coronation Street
David Platt (Jack P Shepherd) was already in trouble with his boss at the hair salon for being late, but that was nothing to the bother he was in when on-off girlfriend Tina McIntyre (Michelle Keegan) turned up. She proceeded to sabotage everything David did, complaining the temperature of the water wasn't right and saying he got soap in her eye. The other clients started to stare and when the boss came over and discovered the troublesome customer was David's girlfriend, he threw her out and sacked David!
Love was not running smoothly for Michelle Connor (Kym Marsh) and Steve McDonald (Simon Gregson), either. But Michelle pushed Steve too far when she brought her old bandmate, JD, back to The Rovers. JD slept on the sofa, but Steve issued her with an ultimatum - either they were back together or she and her son Ryan had to move out of the pub. Michelle agreed to give Steve another chance, but as they kissed she dropped a bombshell - she was going on tour to Belgium to sing with JD and his band.
10 Years Ago in the Soaps - EastEnders
Bianca Jackson (Patsy Palmer) and her kids were staying at Pat Butcher's house and she nearly jumped out of her skin when she woke up to find ex-husband Ricky Butcher (Sid Owen) lying next to her (don't ask!). She wasn't impressed when Ricky refused to move as he had woken up rather over-exited. 'I'm a bloke, I'm sorry - I can't help it!' was his excuse. Bianca was furious and told him he would be sleeping on the sofa from then on. Poor Rickaaay!
Ian Beale (Adam Woodyatt) liked a deal and he didn't like being cut out of the Masoods' Masala Masood curry business. Ian wanted to be a partner and gave Mas a wodge of cash to help persuade him to agree. Later, Ian and his brother-in-law Christian Clarke (John Partridge) found a delicious spicy delivery on their doorstep - compliments of Masala Masood. But when they tucked in to the curry they discovered it was full of ten pound notes. Ian's sweetener had been curried!
10 Years Ago in the Soaps - Emmerdale
Rodney Blackstock (Patrick Mower) revealed a hidden talent when he started penning a children's story, Rollercoaster Rod. But he hadn't reckoned on the upset it would cause when his ex-wife Diane got her hands on the manuscript and realised the grumpy character Diesel Di was based on her. Rodney decided the venture was more trouble than it was worth and threw the book in the bin, only for his daughter Nicola to rescue it. She thought it could be worth a fortune, but Rodney was past caring, ripped up the pages, and chucked them on David Metcalfe's barbecue.
Viv Hope (Deena Payne) was due in court to face charges of fraud and was terrified she would be unable to prove her innocence. She decided the only way out was to do a runner and talked husband Bob (Anthony Audenshaw) into leaving with her. The couple packed their bags and made their escape, only for Viv to have a change of heart as they drove off. She realised she had bullied Bob into leaving, so they returned to the café and vowed to fight things together…
10 Years Ago in the Soaps - Hollyoaks
It was showdown time between copper Calvin Valentine (Ricky Whittle) and nasty Nige Foster ( Sam Townend), the drug dealer who'd been supplying Calvin's sister Sasha. They came face to face at The Loft and when Nige goaded Calvin about Sasha, Calvin took a swing at him. But things turned nasty when Nige pulled a knife and stabbed Calvin in the arm. Calvin grabbed the nearest thing - a champagne bucket – and smashed Nige over the head. And that was the end of Nige…
Frankie Osborne's grief turned to incredulity when Jack, the husband she thought she had buried weeks earlier, suddenly reappeared in her kitchen. Frankie (Helen Pearson) listened in disbelief as son Darren (Ashley Taylor Dawson) attempted to explain their plan for Jack (Jimmy McKenna) to 'die' so they could claim the insurance, and suggested they move abroad. Frankie said no way was she living constantly having to look over her shoulder – and if it wasn't Jack in that coffin then who was it?!
Get the latest updates, reviews and unmissable series to watch and more!
Thank you for signing up to Whattowatch. You will receive a verification email shortly.
There was a problem. Please refresh the page and try again.