5 burning questions we have after Line Of Duty episode 1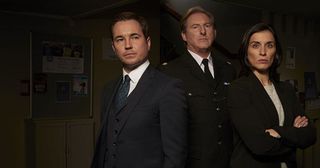 The hit cop drama returned in spectacular fashion and there are things we need to know
Line of Duty is back on our screens for a fourth series and this evening's opening episode suggests the show has lost none of the quality that has made it such a hit in recent years.
In a nerve-jangling first episode, AC-12 found themselves on the tail of DCI Roz Huntley (Thandie Newton, Westworld) an apparently corrupt copper who seems to be framing an innocent man for murder.
As the credits rolled, Huntley seemed set to meet a sticky end at the hands of forensic coordinator Tim Ifield, which leads us on to our first question...
Is DCI Roz Huntley dead?
Line of Duty writer Jed Mercurio has a habit of killing off big names in the first episode and we were shocked when Jessica Raine and Daniel Mays met grisly ends early on in series two and three respectively.
With a chainsaw heading directly for her face, her chances of seeing episode two look very remote indeed, but is it possible she could survive? It might be a waste of a fine piece of casting if Thandie Newton departed so early, but we know that no one's safe in this show.
Why Tim Ifield didn't bother checking to see if his boss was merely unconscious rather than dead before he set off for Homebase is anyone's guess, but if Huntley has perished then AC-12's investigation is in tatters.
Superintendent Hastings, DS Arnott and DS Fleming are convinced Huntley is framing an innocent man, Michael Farmer, but with her out of the picture they may never get to the truth!
Is Tim Ifield balaclava man?
We Line of Duty fans are used to twists and turns, but the idea of mild-mannered forensics coordinator Tim Ifield, played by the superb Jason Watkins, being a serial killer left our jaw on the floor!
For someone who isn't an experienced serial killer, he certainly acted very calmly as he set about the task of disposing of DCI Huntley's body. Yet was he simply repeating the methods he had seen employed countless times by other murderers in his line of work? Plus if he was the killer, surely he would have all the supplies he needed and wouldn't have to pop to the shops?
Yet if Tim Ifield is balaclava man, the most obvious question we all have is; why is he so desperate to stop DCI Huntley from pressing ahead with her case against Michael Farmer? Is he a vainglorious serial killer who wants recognition for his work or is there something else going on?
So many questions…
What's the story with DCI Huntley's husband?
Nick Huntley only appeared briefly in this evening's first episode, but we get the feeling his role in the new series will grow in the weeks to come. After all, top-notch actors like Lee Ingleby don't usually do bit parts!
We know DCI Huntley's other half is a corporate lawyer, so it's probably safe to say he knows how to be economical with the truth, so does he have a hand in his wife's dodgy scheme – and if so, how large is the con the crooked detective is trying to pull?
They could be red herrings, but we were also very interested to see him retrieving a suitcase from the boot of his car. Could this have been a visual cue to the manner in which some of the girls were abducted?
If he is balaclava man, it certainly explains why DCI Huntley is keen to frame Michael Farmer…
Is The Caddy really dead?
Writer Jed Mercurio has previously said the switch from BBC2 to BBC1 seemed like the ideal time to reboot Line of Duty and move on to a completely new case, but can we trust him?
Let us not forget the surprise return of Lindsay Denton last time out.
In recent weeks there have been rumours circulating on twitter that former AC-12 officer, DS Matthew 'Dot' Cottan, who died in a hail of bullets at the end of series three, wasn't actually the caddy. Or maybe he was and there is now a new caddy?
Maybe DCI Huntley is the new caddy, or could it be DS Cottan's replacement be DC Jamie Desford, who is due to make his debut in episode three?
It's safe to say, we trust no one!
Whose footprints did the police find in Michael Farmer's house?
Tim Ifield was quick to point out that the footprints found in Michael Farmer's house weren't his, so whose could they have been?
Surely someone going to such lengths to frame Farmer would take the trouble to wear the right size shoes as they planted the necklaces of the missing girls in his house. Did they make a mistake or were relying on DCI Huntley discounting that piece of evidence?
Either way, we reckon those footprints could be important!
Line of Duty continues at 9pm on Sunday on BBC1
Feature writer for TV Times, What's On TV, TV & Satellite Week and whattowatch.com
Sean has been writing about all things telly for over 10 years and in that time he's been lucky enough to interview stars like Ian McKellen, Tom Hardy and Kate Winslet. His favourite shows are The Great British Bake-Off, People Just Do Nothing and Succession and in his spare time he enjoys drinking tea, doing crosswords and watching football.
Thank you for signing up to Whattowatch. You will receive a verification email shortly.
There was a problem. Please refresh the page and try again.