Why Sir David Attenborough is a youngster at The Emmys!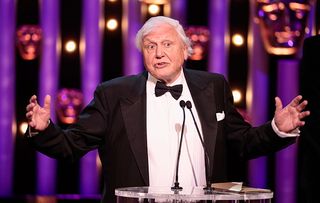 (Image credit: Guy Levy/BAFTA/REX/Shutterstock)
5 reasons to tune into The Emmys, which is on Sky1 next Tuesday, including incredible David Attenborough fact!
Don't miss all the glamour and glitz of the 70th annual Emmy Awards, broadcast live from the Microsoft Theater in Los Angeles next Tuesday on Sky1 from 10pm , with Saturday Night Live's Colin Jost and Michael Che co-hosting the star-studded event, which sees David Attenborough among the nominees.
We've picked five reasons to tune into the showbiz spectacular including why David Attenborough is a comparative youngster!
1. OLDIES BUT GOLDIES - David Attenborough isn't the oldest person nominated... even in his own category!
The Emmys could never be accused of ageism. Lily Tomlin is 79 and Diana Rigg, nominated as Game of Thrones' ill-fated Lady Olenna Tyrell for Guest Actress (Drama), turned 80 this year.
Elsewhere, Henry Winkler, 72, is nominated for Supporting Actor (Comedy) for playing acting teacher Gene Cousineau in Barry – 42 years after his first nomination for portraying Fonzie in much-loved sitcom Happy Days.
Meanwhile, The Good Place's 70-year-old Ted Danson is up against Curb Your Enthusiasm's Larry David, 71, in the Lead Actor (Comedy) category.
But all of these are spring chickens compared with three of the nominees in the Outstanding Narrator category: Morgan Freeman, 81 (March Of The Penguins 2: The Next Step); Sir David Attenborough, 92 (Blue Planet II); and the record-breaking Carl Reiner (If You're Not In The Obit, Eat Breakfast), who sets a new record as the oldest-ever nominee at 96.
2. WILL GAME OF THRONES WIN BIG?
Following a brilliant season seven, it's no surprise that Game of Thrones leads the nominations with 22 nods across all categories, followed closely by Westworld and Saturday Night Live, both with 21.
Lena Headey scores her fourth nomination (Supporting Actress, Drama) for her performance as Cersei Lannister and this year there's also a first nod for Nikolai Coster-Waldau as her incestuous love interest Jaime. He's up against Peter Dinklage, whose seventh nomination for his work as Tyrion Lannister makes him the most-nominated actor ever in the Supporting Actor (Drama) category.
3 WILL NETFLIX BINGE ON SUCCESS?
It's the first time in 18 years that HBO doesn't have the highest number of nominations. That honour goes to Netflix, with 112 nominations, with HBO in second place on 108. This year, the streaming service's biggest hopes lie with The Crown, Stranger Things, GLOW, Godless and Black Mirror.
4. A BIG NIGHT FOR THE BRITS?
http://www.youtube.com/watch?v=JQh36eStMqk
As usual, there are plenty of homegrown stars up for the big awards. Benedict Cumberbatch is nominated for Lead Actor (Limited Series or Movie) for the title role in Patrick Melrose, while Joseph Fiennes (The Handmaid's Tale) and Matt Smith (The Crown) go head to head in the Supporting Actor (Drama) with both actors receiving their first nominations.
Matthew Rhys gets a third consecutive Lead Actor (Drama) nomination for playing spy Philip Jennings on The Americans. It's his last chance of an Emmy for the role as the series concluded earlier this year.
Clare Foy and Vanessa Kirby will also like to sign off with success as Queen Elizabeth II and Princess Margaret respectively in The Crown. Claire is in the Lead Actress (Drama) category, while Vanessa battles fellow Brits Lena Headey, Thandie Newton (Westworld) and Millie Bobby Brown (Stranger Things) for the Supporting Actress (Drama) gong. Meanwhile, Michelle Dockery is recognised for Godless in Lead Actress (Limited Series or Movie).
5. THERE'LL BE A NEW QUEEN OF COMEDY
After winning the Lead Actress (Comedy) Emmy six times in a row for playing politician Selina Meyer in Veep, Julia Louis-Dreyfus is a notable absentee this year. That's because the show has been on hiatus while the 57-year-old actress battles breast cancer. That will mean a new winner in the category with Rachel Brosnahan from The Marvelous Mrs Maisel and Lily Tomlin from Grace and Frankie among those in the running.
David Attenborough pics: Guy Levy/BAFTA/REX/Shutterstock and BBC NHU 2017; The Crown pic: Netflix.
Get the latest updates, reviews and unmissable series to watch and more!
Thank you for signing up to Whattowatch. You will receive a verification email shortly.
There was a problem. Please refresh the page and try again.