8 Reasons Why Cold Feet Warmed Up Our Mondays!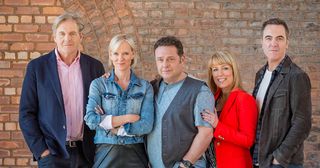 (Image credit: Big Talk Productions / ITV)
Here are the 8 things that we've loved (and want to see more of next time!) about the revival of Cold Feet….
Cold Feet has been an absolute treat over the last few weeks and even though we're in bits that the series has drawn to a close, we're already excited that we'll be catching up with Adam, Pete, Jenny, David and Karen all over again next year for another series.
To celebrate, here are the 8 things that we've loved (and want to see more of next time!) about the revival of the ITV comedy-drama….
They gang really hadn't changed
Fears that the pals would be unrecognisable after 13 years away proved unfounded as David was still thankfully a lovable wally (his trouble with the cops resulted in a blundering bid to blackmail his boss and his priceless attempt to 'fit in' in prison) and brilliantly blunt Jenny still spoke before engaging her brain (she really didn't want Adam to marry Angela did she?!) Leopards never change their spots and we never want those oh-so-realistic flaws to go away.
Light and shade
Cold feet always had a sublime mix of poignancy and pant-wetting laughter and that beautiful balance remained firmly in evidence. Only Cold Feet could derive black comedy out of a suicide bid (Pete received a call from his mobile phone provider just as he was about to plunge to his death) or a failed euthanasia attempt (shame Harry [James Bolam] croaked later anyway, perhaps he'll return as his equally grumpy twin Barry!)
Tremendous Tina
We thought we'd miss Helen Baxendale's Rachel, but the fantastic Leanne Best has effortlessly filled the gap (sorry Helen!) as Adam's feisty landlady Tina. We knew she was the girl for him from the flirtatious moment they met and she thought he was a cabbie, but it took him most of the series – and a brief marriage to Angela – to make his move. Let's hope Tina will still keep him on his toes in the next series!
New faces
It has been lovely to see all the friends' kids grow up into wonderfully well-rounded characters, but special props go to Cel Spellman as Adam's son Matt, who has portrayed teenage angst perfectly while Matt has also given his old dad a run for his money in the bedroom stakes by romancing Karen and David's daughter Ellie. Maybe a teenage pregnancy story and a Marsden-Williams baby could be on the cards next time?!
Chloe's dad
As if there wasn't enough drama in the Gifford household, Peep Show star Robert Webb threw a dad-shaped spanner in the works when he turned up on their doorstep, as Chloe's sperm donor biological father. Ineffectual Grant soon crawled back under his rock and the Giffords were happy (sort of) once more. But is it wrong to hope we haven't seen the last of him?
Gorgeous Justin
We loved it when Karen sealed her publishing deal by 'getting physical' with the handsome investor, played by Jekyll and Hyde Tom Bateman. She said it was just the once - sorry, twice! - but we're certain the chemistry will still be sizzling in the next series... But what about Eddie and David? Three men fighting over you, Karen? She's pure catnip!
The, ahem, musical performances...
Cold Feet gave us everything: Pete's impressive drumming (John Thomson, was that really you?) with young Adam's band, Chloe's wailing singing and Adam serenading Tina - with Jamie's guitar, which the jilted lover subsequently smashed to bits! Next series, we'd like to see straight-laced David take on the bagpipes (wearing kilt and sporran, please!)
Saluting Manchester
Manchester doesn't always get the fairest deal in TV-land, so often portrayed as grim and crime-ridden. In Cold Feet the city is like another character and this time around there were colourful trips to Old Trafford and Piccadilly Records and loads of chic bars, awesome apartments and sexy locals.
Additional material by Victoria Wilson
Get the latest updates, reviews and unmissable series to watch and more!
Thank you for signing up to Whattowatch. You will receive a verification email shortly.
There was a problem. Please refresh the page and try again.