Fay Ripley and Robert Bathurst: 'We can't wait for more Cold Feet!'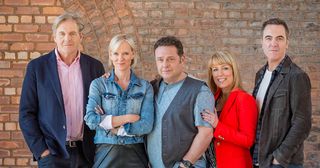 (Image credit: Big Talk Productions / ITV)
Fay Ripley and Robert Bathurst preview the Cold Feet finale and reveal their hopes for the next series, which has been confirmed for 2017
Cold Feet's special blend of pathos and belly laughs has made it a dazzling hit all over again, 13 years after it was last on air. But we won't have to wait a decade or so for the next series as another run has just been commissioned by ITV.
TV Times sat down with Robert Bathurst, 59, who plays gaffe-prone David, and Fay Ripley, 50, who plays forthright Jenny, to find out about this week's finale and their hopes and fears for the famous five's future...
We were so pleased to hear that you are back for another series! Robert: "It's great! We have never finished a series of Cold Feet and said, 'See you next year', it has always been a case of, 'We will see what the audience think.'" Fay: "I am very happy to return to Jenny because she feels like a pal and now I have something to say when people ask when it's coming back! At the end of this series we were all saying, 'I really hope we don't have to wait another 13 years to do this again, fingers crossed we'll be able to carry on where we left off'."
So, what can you tell us about the finale? Fay: "As is often the case with Cold Feet, things aren't straightforward. For Pete [John Thomson] and Jenny, after a long time struggling, things are looking up, but they have another issue to deal with…" Robert: "We find out whether David's legal problems will go away, but most of it is set at a party and all sorts of things go on!"
Were the party scenes fun to film? Fay: "No, they were absolutely awful! On the first day it is brilliant and you are all together having a laugh and you feel like you are at a party. But those scenes take 10 days to film with pretend drinking and dancing to music that isn't on. That's not fun; you look like a right Charlie!"
Do we leave things on a cliffhanger? Robert: "We see some resolution, but it also leaves things open for any future series so when Cold Feet goes again, there is room for it to develop further." Fay: "Yes, there's an element of leaving everybody wanting to know what is going to happen to these characters beyond this. There are loose ends in everybody's lives so it's clever to leave something hanging."
When Cold Feet does return, where do you see your characters going? Robert: "There have been hints and it sounds really interesting, but Mike Bullen [Cold Feet's writer] hasn't written it yet, so it is all very loose as to what might happen. David still wants his ex Karen [Hermione Norris], but can you revisit old times or should you move on?" Fay: "I've suggested that Jenny get a lot of plastic surgery and goes to spas, but nobody seems to be listening! Seriously though, it would be really sad if Pete and Jenny split. Their relationship is full of love, but it is also warts-and-all, which people relate to."
Have you been surprised by the amazing reaction to the return of Cold Feet? Fay: "I mainly feel 'hashtag relief'! We just didn't want to disappoint the people who liked it the first time. The reaction has been unbelievable because I've had tweets saying, 'I feel young again'. It has put a spring in people's step and caught the imagination again because we all need an escape from the bad news that is going on. Like The Great British Bake Off, it's a tea break from reality." Robert: "It is marvellous and one of the greatest pleasures for me has been that people in their 20s are watching it for the first time. I have had people from 18 to 80 tell me how much they have loved it, so it isn't just a niche thing for middle-aged people like me!"
Do your friendships as a cast feel even stronger this time around? Robert: "Yes, since we wrapped this series, we've had dinner a couple of times and it has been really enjoyable. We have known each other since 1996 and that is a fair old wodge of our lives so we are always interested in what we have all been up to." Fay: "It's different from the first time around, because we have grown up and it is easier now and more relaxed, there is not any agenda, we are all just incredibly fond of each other. It is like family."
Get the latest updates, reviews and unmissable series to watch and more!
Thank you for signing up to Whattowatch. You will receive a verification email shortly.
There was a problem. Please refresh the page and try again.