Cold Feet's Fay Ripley: 'My kids don't like watching mum on telly in case I kiss someone!'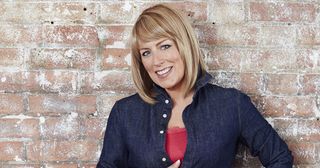 (Image credit: ITV)
Cold Feet was an unqualified hit on its return to ITV on Monday, but maybe not with Fay Ripley's children...
Since the hugely popular Cold Feet ended in 2003, Fay Ripley, who plays brilliantly blunt Jenny, has appeared in everything from a revival of Reggie Perrin to acclaimed improvised Channel 5 drama Suspects and even published her own best-selling family-focused recipe books.
But it's no surprise Cold Feet still holds a special place in Fay's heart, so she was thrilled to return to the much-loved comedy-drama...
How do you feel about Cold Feet coming back? "Cold Feet has been a very big deal in my life. It spanned our going-out-and-having-fun years and, after I met my husband [actor Daniel Lapaine], my courting years. But also, it was 100 per cent my big break. Before Cold Feet I played whores and mistresses who didn't have a name! It was a career-turning job for me."
Although Fay has loved reuniting with her co-stars and reprising her Bafta-nominated role, we've already seen that things aren't looking great for Jenny and husband Pete (John Thomson) as they struggle to make ends meet. But what lies ahead for the plain-speaking pair? "The family's relying on Jenny paying the bills and that causes problems within the relationship and there are answers they're trying to find.
"We'll also explore the issue of Pete not being the father of Jenny's daughter Chloe. It's a believable situation in that their relationship was always flawed and I like that. John and I always wanted you to feel you know them."
Were you pleased to return to Jenny? "Absolutely. Being Jenny again was like bumping into an old friend and I was relieved I still recognised her. Those characters have grown up and we have grown up, but it's weird to get your brain around it all because everything about your life rewinds 20 years, except you look older and a couple of dress sizes bigger!"
Did you always know Cold Feet would come back? "Well, about 10 years ago, I arrived at my father's house and everyone was drinking champagne and said, 'Congratulations! Cold Feet's coming back, it was on the news.' And I went, 'Well no one's ****** rung me, this is a disaster!' But it was rubbish and wasn't true at that point.
"The conversation hadn't gone away though; I'd been asked about it ever since the show finished, because it has such a nostalgic place in people's lives. It was a time when, as the characters were setting up their lives, so were the people watching it."
Do you remember when you realised how the show was a major hit? "It was quite a slow burn because we did the pilot, which won the Golden Rose of Montreux, but until the end of the second series, we never knew if we'd be commissioned for another one.
"I knew that things had changed when Vivienne Westwood lent me a dress for an awards thing and I remember being trussed in, thinking, 'Someone's lent me a dress!' I thought that meant it was doing well.
Was there a sense of coming home when you got back on set? "Yes, Pete and Jenny are in the same house that we used to film in, so everywhere you go is familiar, it's like going back to school or a first job and it feels safe and warm.
"We're like family and we have a shorthand so you don't have to do the polite stuff, you can go in and say 'I've a headache' or 'The menopause is giving me gyp!' Age makes you more relaxed, we want to do the job and then have a laugh and an Earl Grey!"
Did you keep in touch with the cast when Cold Feet finished? "Yes, but everyone used to say 'Are you like the British Friends?' because they thought we all lived in the same flat, but we had our own families and went off and did different work. So our lives separated, but we kept in contact.
"Although we weren't having Sunday lunch every week, we'd still go to the same showbiz dos and that meant that there wasn't that initial thing of, 'That's going to be slightly weird when we get back together'."
Are you sad about Helen Baxendale [Rachel] not being there this time? "Very sad. Helen's brilliant and I admire her enormously so we missed her. I'd love her to be in the mix, but it's right for her and the show that she's not because it was a big thing when Rachel died. We can't do Bobby Ewing in the shower!
"It also meant that Hermione Norris [Karen] and I got more scenes together, which was brilliant, and you see Jenny and Karen's friendship has become stronger."
Have you enjoyed working with the young actors playing the characters' teenage children? "It's an age thing but I become doting towards anyone who's young. I love young people, and ones that end up on sets are normally very polite. They don't tend to mug you! We've got amazing kids on this and it's a great to have young blood there and, like my children [Parker, 13, and Sonny, nine], they force the modern world into my life."
Have your kids watched the original? "My kids haven't watched anything I'm in apart from adverts. They don't really like watching mum on telly in case I kiss someone, but they're all right with John!
"They are super aware of Cold Feet, though, because so many people have come up to me and said, 'When's Cold Feet coming back?' But people also come up too to ask how long to cook my lemon chicken recipe for!"
Get the What to Watch Newsletter
The latest updates, reviews and unmissable series to watch and more!
Caren has been a journalist specializing in TV for almost two decades and is a Senior Features Writer for TV Times, TV & Satellite Week and What's On TV magazines and she also writes for What to Watch.
Over the years, she has spent many a day in a muddy field or an on-set catering bus chatting to numerous stars on location including the likes of Olivia Colman, David Tennant, Suranne Jones, Jamie Dornan, Dame Judi Dench and Sir Derek Jacobi as well as Hollywood actors such as Glenn Close and Kiefer Sutherland.
Caren will happily sit down and watch any kind of telly (well, maybe not sci-fi!), but she particularly loves period dramas like Call the Midwife, Downton Abbey and The Crown and she's also a big fan of juicy crime thrillers from Line of Duty to Poirot.
In her spare time, Caren enjoys going to the cinema and theatre or curling up with a good book.