'A Quiet Place II' and 'Top Gun: Maverick' move to 2021
Say goodbye to more 2020 movies.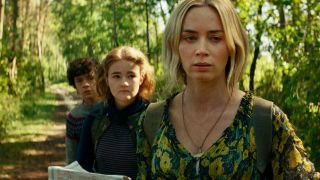 (Image credit: Paramount Pictures)
The avalanche of release date changes continues, this time with Paramount's A Quiet Place II and Top Gun: Maverick (co-produced with Skydance). This isn't the first move for either production since the pandemic began, but neither have hit the "indefinitely" mark just yet. A Quiet Place II will be headed to April 23, 2021, and Top Gun: Maverick will shift to July 2, 2021.
The more curious of the two moves is the Top Gun sequel. Both have jumped out significant enough dates for the studio to hope that they're far enough on the other side of COVID to open, but Top Gun has shifted from a holiday release to a summer one.
Though no one loves hearing news of these delays, this will likely work out in Paramount's favor. Top Gun: Maverick would have done well will a holiday release, but it's undoubtedly a summer movie. As for A Quiet Place II, April may feel a bit early in the year for the film, but horror has plenty of early-in-the-year success stories. The big concern for Krasinski's sequel is that it's currently competing against an already stacked weekend on April 23rd. Monster Hunter, The Asset, Ron's Gone Wrong, and Last Night in Soho are all already slated to release on that date.
Amelia Emberwing is the Entertainment Editor and lead critic here at What to Watch. She survives on a steady IV of caffeine, rants, pixie dust and fangirling, and will probably sass you. You can find her on Rotten Tomatoes as an individually approved critic. She's also a member of the Television Critics Association and GALECA.
Get the latest updates, reviews and unmissable series to watch and more!
Thank you for signing up to Whattowatch. You will receive a verification email shortly.
There was a problem. Please refresh the page and try again.