Ainsley Harriott on the Strictly Christmas Special: 'I want to have the energy to jive when I'm 80!'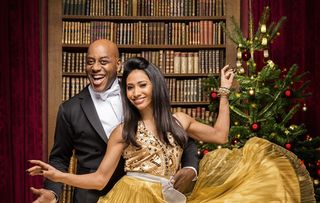 (Image credit: BBC / Guy Levy)
Strictly Come Dancing will be pulling out all the stops on Christmas Day with a movie-themed special. TV chef Ainsley Harriott reveals why the glitterball won't be safe when he's on the dance floor...
TV chef Ainsley Harriott tells us what fans can expect from his performance on the Strictly Come Dancing Christmas Special and how he likes to spend the festive season…
How are you feeling about appearing on the Strictly Christmas Special? "It's lovely to be asked and I'm dancing with Karen Clifton, who I danced with on the tour, so I'm genuinely excited to be getting back and doing something I enjoy. Everyone knows my personality, so I'll hopefully be bringing a little bit of Christmas joy to people and giving them a bit of a smile."
What can you tell us about the dance you'll be doing on the night? "We'll be dancing a jive to Rocking Around The Christmas Tree from the movie Home Alone. We'll be the two robbers coming out of the chimney and trying to steal the glitterball. The jive is a fun dance and it allows you a little bit of that freedom. It's not like the intimacy of the paso doble or the waltz or something like that."
The jive is a very physical dance – do you have the energy for it? "Oh, of course. I'll be 60 next year but I reckon I'll still have the energy when I'm 80, if I live till then. When I was on the show last year I thought to myself: 'My God, I wish I was a little bit younger' because it does takes its toll – eight hours a day of just rehearsing because you have to turn each new dance around within the week. But I loved it, it's what it's all about – you do what's necessary don't you?"
Ainsley is joined by fellow celebrities Melvin Odoom, Frankie Bridge, Pamela Stephenson, Gethin Jones and Denise Lewis
The Saturdays' star Frankie Bridge and Olympian Denise Lewis are among the other celebrities taking part in the Christmas Special. Do you think you've got what it takes to win it? "Ooh, everybody's got a chance, it depends how we perform on the night. There's quite a lot of competition there, so to say I'm gonna win it… I just want to be able to get a good score and that's what counts!"
How are you feeling about facing the judges again on the Christmas Special – especially Scrooge Revel Horwood? "When I did the jive with Natalie Lowe, my dance partner last year, Craig said: 'That was horrible. I hated it, dahling'! So it'll be lovely to get an 'I love it, dahling'. Surely, he's got to have a bit of Christmas spirit?"
Are Craig Revel Horwood, Darcey Bussell, Len Goodman and Bruno Tonioli feeling festive - or will they be bah-humbug?
What's your fondest memory of competing on the show last year? "My fondest memory was probably dancing the salsa with Natalie because it was my highest score and I was then able to do it again on the tour, where I got several 10s, from Len and the other judges. There's also the camaraderie of Strictly – getting to work with people you'd never normally work with, from all walks of life and really getting to know them. It's a lovely happy ship down there, it's like a family. I really like the spirit of it."
Ainsley loved dancing the salsa with Natalie last year
Did you 'keeeeeeep dancing' after appearing on the show last year, and doing the tour? "Not that style of dancing but I have always danced – I dance at home, even the kids find it funny when they watch me dancing at home. If I'm not shimmying around the kitchen, I still like the idea of dancing and going to parties. Dancing is a wonderful communicator, it's a wonderful way of bonding with people - dancing breaks down barriers and you can see the human side of people when you dance. Just look at Ed Balls for instance!"
Yes, former Shadow Chancellor Ed was certainly a hit with viewers on this year's Strictly, despite being dubbed one of the weaker dancers in the competition. Why do you think the public supported him? "Ed reminds me a bit of Jeremy Vince last year. Strictly always brings variety – and that whole thing of dressing up and looking a bit clumsy is something of a light relief from the others who are very focused and who are getting the '10s'. The British public like a bit of silliness – we all like a bit of a clown; someone that makes you laugh out loud. As always with Strictly, though, we want 'entertainment' up to the last few weeks but, when the competition gets to the business end, all the cream rises to the top!"
Ainsley can understand why Ed was a hit with viewers on this year's Strictly Come Dancing
Why do you think Strictly makes perfect Christmas viewing? "It's perfect family TV. Everybody at home has their views on the people they like and dislike and it allows you to have your own opinions and disagreements in a fun way. Strictly brings families together and I love it!"
How do you like to spend Christmas? "Well, first of all, I think there's something quite nice about going to church on Christmas Eve. I think there's something really lovely about it and the candles and people singing… some of them already a little bit tipsy! Then there's the presents. I love putting effort into wrapping them and making them look really pretty. I love the opening of the presents and everybody wearing Christmas jumpers. And then, of course, there's the food…"
Being a chef, do you cook the Christmas lunch in your house on Christmas Day? "Oh yes, I LOVE cooking Christmas lunch - it's a time to bring people together so, for me, the more the merrier! At the moment I think I'll be cooking for about nine people, though there's been occasions where there's been more than that. But when you've got a turkey and all those vegetables, if it goes up to 15 people, it doesn't matter – I think we had about 14 people last year! I don't like the TV on when we're having Christmas lunch – I like it to be a real occasion, so there should be lots of conversation."
Ainsley's looking forward to cooking turkey and all the trimmings this Christmas
Do you have any tips for a stress-free Christmas lunch? "It's all about preparation. Everybody knows when it's Christmas Day, so don't leave things till the last minute – get the potatoes peeled and your Brussels sprouts and your carrots ready to go in advance, that will take all the stress out of it. Oh, and make sure your turkey fits into your oven!"
You say you don't have the TV on during lunch – but will you all be sitting down to watch Strictly on Christmas night? "Oh yeah, definitely, by the coal fire or log fire. The drinks will be out and we'll all be gathering round, watching it and having our opinions. It'll be a real Gogglebox moment!"
Christmas sounds like it's going to be great fun round your house… "I hope so. There's so much sadness around the world at the moment and Christmas is normally a time when families get together. So, if they do get together, let's hope it's a wonderful bonding experience for everyone."
The Strictly Come Dancing Christmas Special can be seen on Christmas Day at 6.45pm on BBC1.
Get the latest updates, reviews and unmissable series to watch and more!
Thank you for signing up to Whattowatch. You will receive a verification email shortly.
There was a problem. Please refresh the page and try again.