Steve Coogan on why 'it feels right' to be playing Alan Partridge again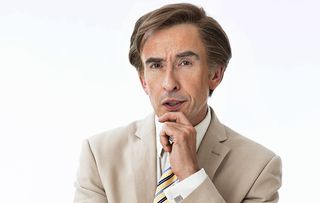 (Image credit: BBC Studios/Andy Seymour)
Star Steve Coogan on his classic comedy character's surprise BBC1 comeback tonight…
The last time Steve Coogan's comedy character Alan Partridge hosted a "live" TV series for the BBC, it did not go well… In an episode of his 1990s chat show Knowing Me Knowing You, he accidentally shot dead a guest on air.
Alan's career has gone steadily downhill ever since and he is currently languishing in the backwaters of local radio.
But the Beeb feel the time is right to give him a second chance. In BBC1's new six-part comedy series, This Time with Alan Partridge, which starts tonight at 9.30pm, he stands in as the temporary co-host of an early evening magazine show while the regular presenter is off sick.
Sitting rather uncomfortably next to Alan on the This Time sofa is his co-host Jennie Gresham (The C Word's Susannah Fielding). Alan's long-suffering assistant Lynn (Felicity Montagu) is back, as is Simon 'Sidekick Simon' Denton (Tim Key) from the Mid Morning Matters with Alan Partridge series.
Unlike Alan, Steve has gone from success to success over the past two decades. The undoubted highlight was an Oscar nomination for his work as a scriptwriter on the 2013 movie Philomena (in which he starred alongside Dame Judi Dench), and he was a Leading Actor nominee at this year's BAFTAs for his portrayal of Stan Laurel in Stan & Ollie.
At an exclusive preview of This Time with Alan Partridge, Steve Coogan, 53, reveals all about Alan's big comeback…
How does it feel to play Alan again?
Steve Coogan: "It feels right. Because I've had some success in other areas, I'm more inclined to want to do Alan Partridge again. It makes me laugh."
Did you have to do anything to get into the character?
SC: "I don't really have any rituals. It feels like second nature to me. I have 25 years of history with Alan."
We see Alan in some behind-the-scenes moments in this series…
SC: "When Alan's on camera, he knows he's being watched, so it's about how he edits his behaviour. But when you show him off-camera, you can see his innermost thoughts."
Is any of the series improvised?
SC: "Once the script is settled on, it's pretty locked in. Every single pause is written into the script. The appearance of things being random is the result of almost surgical work."
Has Alan changed over the years?
SC: "If you look at his views 25 years ago, they would have been those of an uber-conservative Little Englander and now he's more nuanced. I think there's more humour to be mined from people who are attempting to adopt correct thinking and not quite getting it right."
This Time with Alan Partridge begins on BBC1 on Monday 25th February.
Get the What to Watch Newsletter
The latest updates, reviews and unmissable series to watch and more!