Lord Alan Sugar reveals he once threatened to quit The Apprentice over THIS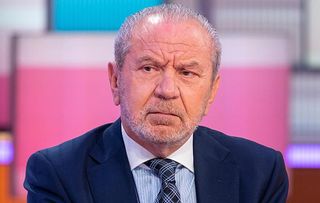 (Image credit: Ken McKay/ITV/REX/Shutterstock)
The BBC star was sick of being made to look like a monster…
Lord Alan Sugar has revealed that he once threatened to quit top BBC show The Apprentice because poor editing decisions made him look cruel.
The businessman admitted that he gave BBC bosses an ultimatum, to show him in a better light or he's off the show.
Luckily for him, bosses agreed to let audiences see his softer side and he was soon given some control over how he is edited in the show.
'I've always liked to be a bit humorous,' he told The Mirror. 'But unfortunately previous editors of The Apprentice, under the BBC's instructions, have been advised to make me look like a bloody ogre or whatever.
'Part and parcel of the agreement for me to continue doing the programme is for me to say that I am not going to be shown as that anymore.'
He added; 'People get nervous because of this perceived stance of mine that they see on television.
'But for most people when we're together in real life, it's very straightforward, very business-like, and there's no reason for people to be nervous. It's as simple as that.'
Despite it being the 14th series of the hit show, Lord Sugar insists he has no intentions to leave.
'There's no reason for me to quit TV, it's not affecting me going forward with any business ventures that I'm involved in. In fact, it enhances them.'
Get the latest updates, reviews and unmissable series to watch and more!
Thank you for signing up to Whattowatch. You will receive a verification email shortly.
There was a problem. Please refresh the page and try again.