Alison Steadman: 'Larry and I fit like a glove!'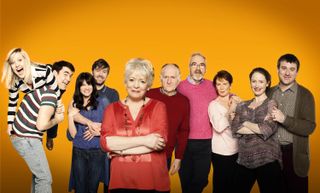 Alison Steadman plays a woman who walks out on her husband after being taken for granted for 40 years in ITV's new drama Love and Marriage (opens in new tab) (Wednesday). We caught up with her to talk about relationships.
Tell us about your character, Pauline Paradise...
"Pauline's very warm and has got a very big heart. She's a really honest and sincere woman. But like a lot of us, she has not been very adventurous during her life. At one point, her sister asks her, 'Are you sure you want to leave Ken? Take your time and think about it.' Pauline replies, 'No, when I think about things, I don't do them.' When she was younger, Pauline thought about training to be a teacher, but Ken and her father said no.
"They wanted her to be at home for the family. She would have made a very good teacher. But she is a woman who's never reached her full potential. She brought up three lovely children and is a very good mother and grandmother. But she feels she could have done a lot more in life. That's where her frustration comes from."
Do you think viewers will relate to her?
"Definitely. I really like Pauline, and I think a lot of people will identify with her. She has been married to Ken for 42 years, and after such a long time together, it's very easy to get complacent and fail to see the person you're living with. She has three lovely children, but they seem to put upon her all the time. They assume she'll do everything for them. So one day Pauline just stops and says, 'I've had enough. I haven't done anything in my life. I'm 60 and I have to do something different before it too late.'"
She goes to stay with her sister Rowan (Celia Imrie), but they're very different aren't they?
"Totally different in fact - the way it happens in families. I've got two sisters and I'm completely different to them! Except that we have a bond of course and that's what they had. They grew up together, living cheek by jowl in many ways. They've gone their separate ways a number of years ago, but that's what's fascinating about the story. You've got these two sisters, one that's had this life and husbands and gone places and done things, while the other has had one husband and has stayed not only in the same town - but the same house that she was brought up in - because they bought the house off her parents when they get married. How settled is that! So it's quite nice for her to come to this nice setting."
How would you characterise her relationship with Ken?
"Unfortunately, Ken is in his own world. When Pauline goes off for her last day at work as a lollipop lady, he doesn't say, 'Good luck'. Even when she gets back, he doesn't ask her how it went. A lot of husbands are like that. Their marriage just jogs along, and when their wives finally decide to leave them, they can't believe it. A lot of women don't say anything - they just go along with it. But Pauline decides to take action. I'm sure a lot of husbands will look at Ken and think, 'I hope I'm not like that. I'd better buy my wife a bunch of flowers now!'
How was it working again with Larry Lamb, who played your husband in Gavin and Stacey?
"At first, I found it strange that he wasn't playing my husband, but it was lovely being around each other. We fit like a glove. We have worked together for so long that we have a short-hand. He is so easy to work with. Duncan Preston, who plays Ken, is the same. It was not difficult for us to play husband and wife - we clicked immediately. It is very important that you do that as actors, because you don't get much rehearsal time. You go to the read-through, and then within a few days you're having to be in love or in bed together. So it was great that Duncan and I were immediately chatting like we had been married for 42 years."
Are you pleased that more dramas now seem to feature older actors in leading roles?
"Absolutely. Only five years ago, I remember saying that there were no parts for actors my age. We were only offered roles as mothers of the leading characters, and it was very difficult to get dramas focused on people over a certain age. But it is brilliant that is now changing. Commissioning editors are acknowledging that everyone in life is important, whether they're one or 91. We're all part of the same world.
"In The Syndicate recently, my character got to have a couple of kisses, which was very nice. Romance doesn't end just because you're over 30. It's great that producers have woken up to that and thought, 'We might be on to something here.' After all, most people who watch telly are not 18. Young people don't watch much telly - they are always out and about."
What you think constitutes a good marriage?
"Not forgetting the other person, listening to each other and remembering that we need to be told things. Men sometimes think, 'My wife knows I love her. I don't need to keep telling her that.' But now and again, it's very nice to be told, 'You're great and I'm so glad you're in my life.' You can forget to say that and think everything is fine, especially when you have been together more 40 years. But wives can sometimes think, 'Actually you haven't spoken to me for 15 years.' That can happen. We all know couples like that."
Finally, was Love and Marriage a happy shoot?
"Yes. It was one of the happiest jobs I've ever worked on. We all got on so well as a team. I was really sad when it finished. I had a text from Duncan the other day saying, 'I hope you're enjoying yourself. I just want to do more Love and Marriage.' I'm ready for more, too!"
Get the What to Watch Newsletter
The latest updates, reviews and unmissable series to watch and more!
Feature writer for TV Times, What's On TV, TV & Satellite Week and whattowatch.com
Sean has been writing about all things telly for over 10 years and in that time he's been lucky enough to interview stars like Ian McKellen, Tom Hardy and Kate Winslet. His favourite shows are The Great British Bake-Off, People Just Do Nothing and Succession and in his spare time he enjoys drinking tea, doing crosswords and watching football.