Amanda Redman is a formidable boss in The Good Karma Hospital: 'My agent said there was no acting required!'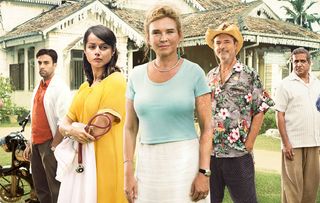 The part of a forceful doctor in southern India was written with Amanda Redman in mind, but far from being offended, she was delighted to play Dr Fonseca in The Good Karma Hospital
Sunburnt tourists, sick villagers and elderly expats – everyone is welcome at The Good Karma Hospital in ITV's new Sunday-night drama, which stars former New Tricks actress Amanda Redman, Life of Duty's Neil Morrissey and Downton Abbey star Phyllis Logan.
Set in the fictional coastal town of Barco in Kerala, South India, the six-part series follows the formidable Dr Lydia Fonseca (Amanda) and her overworked team of medics in an under-resourced cottage hospital.
With a lack of funding, equipment and Lydia's stash of antibiotics running low, treating patients is a daily battle. But the staff's 'make do and mend' attitude means no one is ever turned away.
We caught up with lead actress Amanda, 59, in Sri Lanka, where the drama is filmed, to find out more…
Tell us about Dr Lydia Fonseca, she sounds like a force to be reckoned with! "Lydia is certainly a tough character, but not hard, and I think there's a difference. She is a big fish in a very small pond after coming to India in her late twenties. She feels very much at home here now, and although she's not officially in charge at the hospital – that's Dr Ram Nair's [Darshan Jariwala] job – she's bossy, opinionated and very passionate about her work so everyone lets her get on with it."
How does Lydia react to new junior doctor Ruby Walker (played by former Game of Thrones star Amrita Acharia)? "Lydia happily informs Ruby that all new doctors must spend their first year at a public hospital before being allowed to work in the plush, big-city clinics, so it's a bit of a culture shock for Ruby. But while Lydia has seen a lot of doctors come and go over the years, she recognises something of herself in her new recruit and becomes her mentor."
What's her connection to local beach bar owner Greg McConnell (Neil Morrissey)? "Greg is a bit of a reprobate, but that's what attracts Lydia to him. She doesn't like people talking about her, though, so tries to keep her feelings secret."
https://youtu.be/IZx-vScPuHg
Have you enjoyed filming in Sri Lanka? "I've loved it! It's a beautiful country, the people are lovely and the food is great. I'm fine with the heat, too, but the life here suits me. My mother was born in India so I love everything about it. I was weaned on curry as a kid!"
It's not all palm trees and paradise in the drama, though… "We don't shy away from nasty issues in the show. There's terrible poverty, horrible crimes against women and children as young as five working as drug mules. So it's not all frilly and fluffy, but I wouldn't do it if these things weren't taken seriously.
"What's hard to explain to everyone back home is that no matter what befalls people here, they are always smiling. It's 'karma'. Whereas in England, we'd be like, 'Arghhh!'"
And writer Dan Sefton (whose credits include Holby City, Mr Selfridge and Death in Paradise) created the character of Lydia especially for you… "It's flattering, but it's also funny because when my agent read the script, she said to me: 'Well, darling, all I can say is there's no acting required!"'
Senior Writer for TV Times, TV & Satellite Week, What's On TV and whattowatch.com
Rebecca has more than 20 years' experience in journalism and is now writing about all things telly-related for TV Times, TV&Satellite Week, What's On TV and whattowatch.com (opens in new tab).
She's interviewed all sorts of big-name stars, including Al Pacino, Ewan McGregor, Tom Hardy, Winona Ryder, Benedict Cumberbatch and more. She's also been known to step in front of the camera, dressing up as a 1920s flapper to star in ITV's Mr Selfridge and co-hosting ITV News at Ten with Mark Austin – all in the line of duty!
When she's not quizzing actors, directors and producers, you'll find her bingeing US dramas and anything horror/sci-fi/zombie-themed. But her greatest love will always be Game of Thrones… just don't mention the ending!
Thank you for signing up to Whattowatch. You will receive a verification email shortly.
There was a problem. Please refresh the page and try again.