'I like being scared!' Angela Griffin on her new role and why she loves a challenge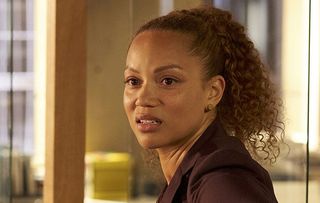 Angela Griffin talks about moving to Canada for her latest role which sees her play dogged detective Stevie Hall in US drama, The Detail
From Coronation Street to Holby City, Waterloo Road to Lewis, Angela Griffin has starred in some of Britain's most popular series. But for her latest role, the mum of two upped-sticks and ventured across the Atlantic to join new 10-part Canadian drama, The Detail.
Based on ITV's hugely successful series, Scott and Bailey, she heads the cast as whip-smart detective Stevie Hall.
TV Times met up with Angela Griffin, 42, who has also recently enjoyed co-hosting The One Show with Matt Baker, to hear more…
TV Times: How similar is The Detail to Scott and Bailey, which starred Suranne Jones and Leslie Sharpe?
Angela Griffin: "The initial set up is the same; you've got two female detectives who are friends and colleagues solving crimes but also dealing with their complicated personal and home lives. That's the base but then it springs off in different directions as the series develops."
TVT: What's Stevie like and what kind of cases is she working on?
AG: "She's sharp, experienced and very dogged in her policing. She very much sticks to the rules unlike her fellow detective Jacqueline "Jack" Cooper, (played by 90210 actress Shenae Grimes-Beech). They both have very different ways of working but really admire each other's skills. The series opens with a case involving a woman who has been found hanged and everyone assumes she took her own life but as the facts start emerging it's clear it's not what it seems."
TVT: How does Stevie balance the demands of her job with her family?
AG: "She has two children, a teenage daughter who's 13 and a son who is 11 and has Asperger's. It's tough for her and she sometimes breathes a big sigh of relief to walk out of the front door and go to work. I think it's important to show people on screen trying to have it all and sometimes failing because that's real life. She's happily married but things get complicated when her ex, Kyle, suddenly comes back into her life."
TVT: What was it like filming in Toronto, Canada?
AG: "I absolutely loved it. I'd never been there before but I've got an uncle there and friends who emigrated so I had a little bevvy of people to hang out with. It's such a family-friendly city. I was there for 16 weeks and my children and husband came out a couple of times, we all loved it so much none of us wanted to come back."
TVT: Stevie is Canadian so how did you find doing a Canadian accent?
AG: "We worked long days, regularly 15 to 16 hours and I stayed doing the accent the whole time on set. About six weeks into the shoot I totally shocked one cameraman by breaking into my normal Leeds accent when we'd finished for the day. He was like, 'Oh my God! Is THIS your voice?' I took it as the biggest compliment that he had absolutely no idea up until then that I wasn't Canadian."
TVT: You co- presented The One Show recently. Do you enjoy doing live TV?
AG: "I actually thrive on it. I've worked out the older I'm getting the more scared I like to be. I like taking risks. Obviously it's pretty terrifying minutes before you go on air but I love throwing myself into new things. Deciding I was going to go and live in Toronto for three months was a risk, but I absolutely loved it."
TVT: Which of your roles do you get recognised for most?
AG: "It tends to depend how old people are. Older viewers know me from Corrie, a lot of the younger viewers loved Waterloo Road so I get people in their 20s shouting out, "Miss Campbell, Miss Campbell!' Lewis is what I get recognised for internationally because it's shown around the world and people in their 40s tend to know be best from Cutting It."
TVT: Corrie's Jim McDonald, who had a one-night stand with your character Fiona, has recently returned to Weatherfield. Would you ever be tempted back to the cobbles?
AG: "I loved my time there but it seems like a lifetime ago. It was over 26 years that I first joined Corrie. I had loads of fun working with Simon Gregson (Steve McDonald) and if there was a really juicy storyline I would never say never. I'm keen to do more drama right now, there are so many brilliant ones on at the moment."
The Detail begins on Friday, Nov 2nd, 9pm on 5USA
Get the latest updates, reviews and unmissable series to watch and more!
Thank you for signing up to Whattowatch. You will receive a verification email shortly.
There was a problem. Please refresh the page and try again.