EastEnders legend Anita Dobson guest role in Casualty - FIRST LOOK!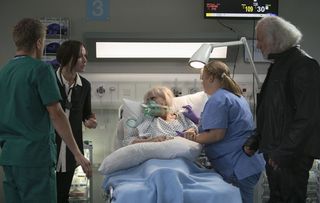 (Image credit: BBC / Alistair Heap)
Soap sensation Anita Dobson plays a heartbreaking guest role in BBC1 medical drama Casualty…
Casualty has released this first look picture of former EastEnders legend Anita Dobson guest starring in the BBC1 medical drama.
From 1985 until 1988 we were all captivated by EastEnders alcoholic landlady Angie Watts and her volatile shenanigans with husband 'Dirty' Den. The colourful couple were brought to life by soap legends Anita Dobson and Leslie Grantham, with the Watts' breakup attracting the soap's biggest ever storyline peaking at 30 million viewers over Christmas 1986.
While rumours about Angie's return to EastEnders continue circulate, although the character was killed off-screen in 2002, we can confirm the return of actress Anita Dobson to another long-running BBC drama this week...
Anita, 68, is barely recognisable for her special guest role in Casualty as fragile Naomi Danes. Naomi is dying from lung disease but her husband Bill (Detectorists' David Sterne) hasn't accepted it's almost time for them to say their goodbyes. In a wish to feel normal for one day, Bill arranges a motorbike and sidecar to take fragile Naomi on a picnic, which is, as so often is the case in Casualty, where the trouble starts!
What's on TV can reveal Naomi and Bill wind up in the ED after Bill becomes distracted from driving and crashes into a bus shelter. Paramedic Iain Dean (Michael Stevenson) is soon on the scene and whizzes the couple to Holby ED where they must both face up the reality of Naomi's terminal condition. However, with clinical lead Connie Beauchamp also facing her own mortality this week, there are some emotionally explosive scenes in store for Casualty fans!
This is a one-off role for Anita, who has previously guest starred in Casualty on four other occasions. She's also appeared in The Bill, Call the Midwife and The Rebel alongside Simon Callow. Anita certainly hasn't been sitting on her soap accolades since leaving EastEnders and in 2011 she took part in that other BBC favourite, Strictly Come Dancing.
Anita also has a successful musical career – in 1986 she had a hit record singing Anyone Can Fall In Love, the theme tune to EastEnders. She's starred in West End musicals Chicago and Wicked. But our favourite fact about the star is that Anita has been married to Queen guitarist Brian May since 2000. Now, we can't shake the picture Brian May on the set of Casualty performing Under Pressure!
Anita's Casualty episode airs on BBC1, Saturday 14th October at 8.40pm
Get the latest updates, reviews and unmissable series to watch and more!
Thank you for signing up to Whattowatch. You will receive a verification email shortly.
There was a problem. Please refresh the page and try again.