'It was humbling and moving': Fiona Bruce talks about an Antiques Roadshow special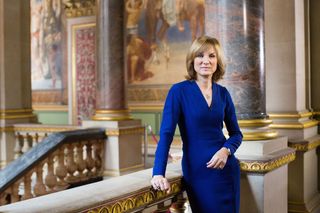 (Image credit: BBC/Anna Gordon)
Antiques Roadshow presenter, Fiona Bruce, tells us about the extraordinary people she met, and incredible items she saw when filming a special edition of Antiques Roadshow to mark the Holocaust.
As Fiona Bruce meets survivors from the Holocaust, and families of those who were sent to the camps, she tells us how emotional and moving the experience was.
What kind of items did survivors and their families bring along to this Antiques Roadshow special to mark Holocaust Memorial Day on 27 January? "One example that really stood out for me was a lady called Sybil who brought along her late husband Joe's striped trousers from Auschwitz. Joe had actually gone through eight of the concentration camps and survived. He died not that long ago but had kept these trousers that have never been washed and are exactly as they were when he was liberated from the camp aged 21 weighing just 5st. He never wanted it to be forgotten. So I picked up these trousers and just felt a whole range of emotions that I can't even put into words. You can't imagine ever picking up something like that."
How emotional was it to film this special episode of Antiques Roadshow? "It was one of the most extraordinary days of my life. We were in a suite of rooms at the Foreign Office - the rooms were packed so I spoke to lots of different people who'd been to the camps and had come together for this occasion. I'm not sure when that's ever going to happen again, it was just a humbling, inspiring and intensely moving day."
What sort of valuables were survivors able to hide from the Nazis? "One lady came up to me with a little square of gold on the end of her little finger, no thicker than a finger nail. She was liberated from a camp aged eight with her grandmother and told me it was a piece of gold extracted from her grandmother's tooth. It was a gold tooth that the Nazi's hadn't spotted so she had it extracted, flattened and engraved with her granddaughter's name and the date."
The children's author Judith Kerr was also on the show, what did she bring along? "Judith had fled Berlin with her family aged nine in 1933 and she brought along some of her early sketches and drawings. She famously wrote When Hitler Stole Pink Rabbit about the Second World War and all the Mog books so it was incredible to have her on the show."
Is it true that for the first time in Antique Roadshow's history, the experts will not be placing a financial value on any of the items brought along? "Yes, because that would have felt entirely wrong. In most cases they're not valuables but are items fraught with significant emotion and meaning to the owner or the families who have inherited them. There's a very strong feeling that as the generations pass, survivors will be forgotten. But it should never be forgotten nor repeated and that's why we made the programme."
You've been hosting Antiques Roadshow for 10 years now, and it celebrates 40 years this year. Are you still excited about the show? "I love doing the Antiques Roadshow! It's great as that item you've had on the mantelpiece for ages could be valuable. The show appeals to all ages, all kinds of people, even the Royal Family! I met the Queen and Prince Philip a couple of years ago when they came on the show and it was suggested that she watches it. That's always nice to know!"
Get the What to Watch Newsletter
The latest updates, reviews and unmissable series to watch and more!