Fiona Bruce and Antiques Roadshow expert reveal the collectibles that got them started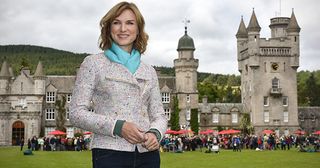 (Image credit: BBC/Jeff Overs)
Every collector has to start somewhere and the Antiques Roadshow team headed by host Fiona Bruce reveal the items which got them started on their lifelong passions
Every collector has to start somewhere. Here we ask the Antiques Roadshow (BBC1) team, who on Sunday visit Baddesley Clinton manor house near Birmingham, to tell us all about the first ever antique they owned and why it made them fall in love with antique collecting…
VICTORIAN SAMPLER c1800s Fiona Bruce, host
"I collect Victorian samplers. They were often embroidered in the Victorian workhouses, mostly by girls, sometimes as young as six, to teach them useful skills should they go into service. It's desperately sad to imagine the lives of such little children in these miserable places poring over their embroidery for hours on end – but the samplers they produced are so exquisitely crafted, they deserve to be loved.
"I found my first one at an antiques auction, and although samplers of this era aren't usually of great value, I did discover this one is worth several times what I paid for it. It's made of silk and shows a map of Great Britain in the early 1800s, beautifully-detailed with tiny, delicate stitches. I've put it behind protective glass and hung it out of the sun in a shaded part of the house. Every time I walk past, it gives me joy."
DUSTY SPRINGFIELD VINYL RECORD, 1964 Andy McConnell, glass expert
"'The first 'collector' item I ever bought was the 1964 single, I Only Want To Be With You. I was 12. Before that, I'd frittered away my pocket-money on Airfix models. No idea where Dusty is… and I certainly don't still own her. I left home 43 years ago!
"My collection of glass of all ages extends to something in the region of 30,000 pieces. These are spread between our shop, my office, a barn and six railway arches that I've had a lease on for 30 years. I have very little glass at home as Helen, my wife, says I've enough space to put all my old toot without having it in the house!"
PRINT BY J & F HARWOOD OF LONDON, 1842 Susan Rumfi, jewellery expert
"The first antique that I purchased was a print of an antique line engraving by J & F Harwood of London, showing Lodore Falls, Cumberland, from 1842. It was bought from a gift shop in Borrowdale during a family holiday in the Lake District when I was 15, for just £10.
"I loved the intricate detail and it has travelled everywhere with me since. Today I would have to spend about £20 for the print. Value isn't important to me, it's the fact that it reminds me of very happy holidays and started an interest in engravings, which then led onto a career in the antiques world."
MY FATHER'S WORLD WAR TWO MEDALS Mark Smith, arms and medal expert
"On Friday afternoons back in the 1960s I was taken from school to my Grandma's house. In the parlour was a sideboard in which a wooden box which I thought was magical because it contained my father's medals from World War Two, his Air Gunners brevet, his Sergeants stripes and his white Air Crew flash worn in his hat whilst training to become a Wireless Operator Air Gunner in 1941 with the RAF.
"The medals fascinated me and one afternoon in 1969 my Grandma said: 'You really like these don't you – if you promise to look after them you can take them home. I returned home jubilant, made a display in my bedroom, and got a book out from the library about medals. I was, and still am, hooked!"
Get the latest updates, reviews and unmissable series to watch and more!
Thank you for signing up to Whattowatch. You will receive a verification email shortly.
There was a problem. Please refresh the page and try again.